Extra Shot Needed
How Not to Fend Off an Activist Investor, Costa-Style
Poor results at Whitbread will hardly rally the troops.
By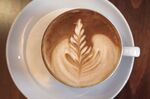 WHITBREAD PLC
-2.00
At Closing, February 22nd
STARBUCKS CORP
-0.70
At Closing, February 22rd
Whitbread Plc just poured a cup of cold coffee on its prospects for holding off an activist assault.
Sachem Head Capital Management LP last month took a 3.4 percent stake in the owner of Costa Coffee and Premier Inn, and has asked the group to consider a breakup, according to Reuters. 
Whitbread's third-quarter sales report provides nothing to support Chief Executive Officer Alison Brittain's argument for keeping the group in its current shape.
Growth has come off the boil at both divisions, and there's little to suggest that Whitbread's fortunes are about to change any time soon.
While the company has seen some improvement in Premier Inn, it has been hurt by the oversupply of hotel rooms in London. The data also have some tough comparisons, as last year demand surged due to the post-referendum slump in the pound. It could take some time for the balance between supply and demand to return.
Meanwhile, Costa's like-for-like sales are being held back by shoppers staying away from the high street. Whitbread expects this trend, together with pressure from cost inflation in the business, to continue.
Weak trading plus a subdued outlook is hardly going to strengthen management's hand in convincing investors -- not least Sachem Head -- that the current structure of the group is the right one.
The company has been ripe for activist interest for some time. But as Gadfly has argued, the optimum moment to extract maximum value from the portfolio, especially Costa, has probably past.
Still, Sachem Head is right to push for a break-up. The shares rose about 2 percent on Thursday, but that was more a reflection of the prospect of restructuring than anything appealing in the group's latest report.
At just over 39 pounds, the shares are trading at a discount to analysts' estimates of the break-up value of more than 50 pounds per share, indicating that there is still some upside from more radical action.
Given the likelihood of continued pressure on both divisions, Brittain's strategy to expand Costa and Premier Inn, supplemented by a good sprinkling of cost savings, looks increasingly misguided.
Whitbread needs a shot of espresso. That's more likely to come from taking an ax to the empire than hoping the U.K. consumer will drink more cups of coffee or take an extra weekend away.
To contact the editor responsible for this story:
Jennifer Ryan at jryan13@bloomberg.net
Before it's here, it's on the Bloomberg Terminal.
LEARN MORE