Cable Misery
Between a Rock and a Swedish Place
Kinnevik's big cable merger is going down like a lead balloon with other investors.
By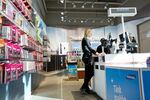 KINNEVIK AB - B
-1.90
As of 4:58 AM EST
TELE2 AB-B SHS
+0.20
As of 4:58 AM EST
Swedish investment group Kinnevik AB is learning the hard way that you don't automatically win by being on both sides of a deal.
Its support for the takeover of Swedish pay-TV group Com Hem AB by Tele2 AB, the country's number two mobile operator, has driven a wedge between Kinnevik and other investors in Sweden.
A week since the deal became public, Tele2 shares have fallen 8 percent. Even though Com Hem is up 3 percent, the two companies combined are still worth 3.2 billion kronor ($398 million) less than they were before the deal was announced. Kinnevik, which owns stakes in both businesses, is sitting on a paper loss of about 1 billion kronor after just a week.
Other investors clearly don't share the hope that, by giving customers a combined offering of mobile and fixed-line telephony, broadband and pay TV, the two companies will be more valuable together.
Kinnevik aside, there's little overlap in the ownership of the two companies. Tele2's mainly Scandinavian investors shunned Com Hem's 2014 public offering, which was instead lapped up by U.S. money managers and hedge funds.
The local aversion to Com Hem may be linked to the company's past high level of subscriber defections. The situation has improved, but so has the share price, denying investors who skipped the IPO a chance to get back in cheaply.
The result is that Com Hem is a Swedish business with very little local following. The takeover will force Tele2 investors to buy a company they have previously shunned. To compound the problem, Tele2 CEO Allison Kirkby will hand the role to her Com Hem counterpart -- a relative stranger to her shareholders.
None of this should detract from the strategic logic of the deal. What's more, the cost savings and capital expenditure synergies are probably understated, judging by a recent analysis of comparable deals conducted by Morgan Stanley. If Kirkby has agreed to a steep takeover valuation, she is at least overpaying in Tele2 shares that have been arguably inflated by misplaced hopes that the company would deploy its excess cash on a buy back rather than an acquisition.
Deals that leave companies worth less together generally don't make it across the finish line. An activist would descend. The snag is that activists like to pick battles they know for sure they can win, and taking on Kinnevik would be tough. It has 48 percent of the voting rights and owns 30 percent of Tele2's shares -- not enough to guarantee success in the required shareholder votes, but a formidable force in favor.
Com Hem shares are trading a whisker below the value of the offer based on Tele2's dwindling share price. However much the market doesn't like this, it looks resigned to it going ahead.
To contact the editor responsible for this story:
Edward Evans at eevans3@bloomberg.net
Before it's here, it's on the Bloomberg Terminal.
LEARN MORE