Core's a Bore
Sterling at $1.38 Was Fun, but Inflation's a Big Drag
Cooling price gains ease pressure on the Bank of England to deliver faster rate increases.
By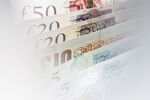 Inflation has taken some of the wind out of the sails of the strong pound, and the currency could be heading lower from here.
Sterling has been benefiting from the overall weakness of the dollar, but that pressure may not last, as Gadfly's Mark Gilbert argued Monday. In addition, recent rhetoric from the BOE has raised hopes for the economy's prospects. Deputy Governor Ben Broadbent and Silvana Tenreyro, the newest member of the Monetary Policy Committee, have both suggested growth could accelerate. Given that the former has tended not to be so specific on his outlook, and the latter is presenting her first major policy statement, these views are notable. 
But Tuesday's report that inflation eased to 3 percent in December from November's 3.1 percent takes some of the pressure off the Bank of England to act faster on raising interest rates.
Early days, but it does look as if inflation might be finally topping out as the the drop in sterling following the Brexit referendum pass through the system. A reweighting of airfares in the Office for National Statistics' basket of consumer goods, along with a slower pace of price gains, was the main contributor to the lower headline rate. Upward pressure nevertheless came from all categories of goods and services.

But the core measure, which excludes food and energy, dropped to 2.5 percent from 2.7 percent the prior month. This lowers concerns about domestically-generated inflation, which is the focus for the central bank. 
The bank has set out an outlook for two increases in its key interest rate over the next three years from the current 0.5 percent. The projections are based on an expectation that inflation will slow to its 2 percent target by the end of policy makers' forecast period. This looks more achievable now.
The acid test will be the bank's quarterly inflation report, which is due in February and will present updated projections for growth and inflation. The fact that price gains are behaving according to their November projections suggests there's little reason for officials to price in faster rate hikes.  
All this means that the pound is losing its home-grown reasons to stay high. 
--Gadfly's Elaine He contributed charts
To contact the editor responsible for this story:
Jennifer Ryan at jryan13@bloomberg.net
Before it's here, it's on the Bloomberg Terminal.
LEARN MORE