Bright Side
Seeing Past Citigroup's Big Loss
The bank's core results are decent, and its commitment to return at least $60 billion to shareholders remains intact.
By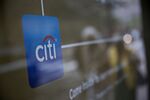 CITIGROUP INC
+0.41
At Closing, June 18th
Citigroup Inc. investors are rightly looking past the ugly headline. 
The bank on Tuesday reported a large fourth-quarter loss, reflecting a bigger-than-expected $22 billion writeoff related to changes in U.S. corporate tax laws and a move to a territorial tax regime. Importantly, the one-time charge shouldn't compromise Chief Executive Officer Mike Corbat's ability to deliver on targets due by 2020, and the bank's underlying results show that it's making progress toward those goals. These are the details that shareholders grasped on to, and what gave them the confidence to propel Citi's stock to the highest level since 2009 in early trading. 
Even more importantly, Corbat reiterated that the bank's intention to return a total of $60 billion or more in the form of dividends and buybacks shouldn't be impacted by tax law changes. 
Among the key positive metrics: Citi's overall year-on-year loan growth at 7 percent (or 5 percent excluding the impact of currency movements) is stronger than the 4 percent reported by JPMorgan Chase & Co. and decline of roughly 1 percent posted by Wells Fargo & Co.. One consequence? The bank's two key businesses focused on consumer banking and institutional clients both posted much-needed revenue gains. The fact that growth its international consumer loans outpaced its North American arm further justify the bank's commitment to a global footprint.
That's not to say there isn't room for improvement. We're yet to see real evidence of market-share gains in equities, and a $130 million loss seeimngly associated with Steinhoff International Holdings NV doesn't help. And although the bank's U.S. credit-card arm managed to grow despite a likely rise in partnership costs with the likes of American Airlines, the loss of the Hilton card to American Express Co. and consistent pressures and store closures at Sears Holdings Corp., its credit costs are climbing, which will be closely-watched in coming quarters.
Still, investors can be broadly upbeat after a couple of unexpected events in the past month, including fines for the bank's failure to fix problems relating to money-laundering safeguards as well as for errors within its brokerage unit that led to incorrect recommendations (such as "buy" instead of "sell").
Separately, the New York-based lender is so far the only U.S. bank to respond to a shareholder proposal to take steps to close the gaps between what it pays men and women in three countries and for U.S. minorities. Although it's convenient that the gap is only 1 percent, being a leader bodes well for Citi at a time when investment giant BlackRock Inc., its biggest shareholder, is encouraging all companies to prioritize social responsibility and not just profit-making. Fortunately for Citi investors, the bank is in a position to deliver on both fronts. 
To contact the editor responsible for this story:
Beth Williams at bewilliams@bloomberg.net
Before it's here, it's on the Bloomberg Terminal.
LEARN MORE