Melrose Place?
GKN Shouldn't Surrender for $9.5 Billion
GKN has struggled, but it shouldn't surrender to opening Melrose gambit.
By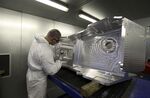 MELROSE INDUSTRIES PLC
+1.00
As of 10:22 AM EST
GKN Plc's defenses could scarcely be weaker in the face of Friday's unsolicited takeover approach from plucky deal machine Melrose Industries Plc. But the British engineer was right to reject this audacious proposal. Its shareholders, however desperate for a boost, should be wary of surrender.
Last year was terrible for GKN. Accounting errors and mismanagement in its U.S. operations led to profit warnings and the departure of the CEO-designate before he'd stepped up.
Melrose is an M&A-driven company with a decent record in buying struggling industrial companies, improving them and selling them on. GKN may be an ambitious prize given its relative size, but it fits the profile of a Melrose target.
The initial cash and shares proposal valued GKN at 7 billion pounds ($9.5 billion), a 22 percent premium to the target's 5.7 billion pounds market capitalization on Thursday. A jump in Melrose shares in response to the news has lifted the value of the approach to 7.2 billion pounds, with GKN's market value jumping to pretty much the same level. 
There's no firm offer yet and Melrose could walk away rather than formalize its approach. Still, the market reaction puts little pressure on Melrose to make a much more generous pitch.
The allure for GKN shareholders is plain to see. Melrose has a credible management team. A takeover on the outline terms would be a chance for GKN investors to receive about 1.4 billion pounds in cash -- roughly the premium on offer -- and ride a turnaround via a 57 percent stake in Melrose.
In the wake of the assault, GKN has rushed through a host of major changes that were likely to have been made public soon anyway. It is going to break itself up into separate automotive and aerospace businesses, a move many investors have long sought. It has appointed a CEO in Anne Stevens, the non-exec who took the role on an interim basis last year.
Confirmation of the breakup plan would probably have put a rocket under GKN's shares without Melrose's bid interest. The upside from doing the splits could be considerable. Deutsche Bank recently estimated GKN's equity value could be 7.7 billion pounds on a sum-of-the-parts basis. 
One obvious attraction is the possibility of takeover bids for the individual units -- potentially at higher premiums than the Melrose approach for the whole business.
What's more, GKN's profitability and cash flow don't reflect its strong market positions. The question is whether Stevens and her team, or the Melrose board, are better placed to fix that. Stevens has impressive credentials, but her appointment is nevertheless driven by circumstance.
For GKN shareholders, the best thing about the standalone option is they get to keep all the upside from a turnaround and separation, rather than sharing it with Melrose investors. The suitor brings no industrial synergies, just a different board.
Stevens ought to be able to do anything Melrose can do; she just needs to convince the market. A management shakeup and some concrete targets would be a good place to start.
To contact the editor responsible for this story:
James Boxell at jboxell@bloomberg.net
Before it's here, it's on the Bloomberg Terminal.
LEARN MORE