Out of Print
Copy That, Fujifilm Should Give Xerox a Wide Berth
Office printing isn't where the Japanese firm wants to be.
By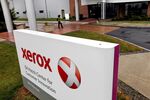 XEROX CORP
+0.21
As of 10:26 AM EST
For Fujifilm Holdings Corp., buying into Xerox Corp. would be a bad idea, even if the Japanese group does have plenty of cash to spend.
Tokyo-based Fujifilm, which is still known globally for its films and cameras, now gets much of its revenue from supplying diagnostic and imaging systems to the medical and pharmaceuticals industries. According to Bloomberg Intelligence analyst Simon Chan, the company could see higher sales in the half year through March as growth in the healthcare and electronic-materials segments helps to offset slowing demand for printers.
Why would it want to ride to the rescue of a faded American brand?
The Wall Street Journal reported Wednesday the pair are in talks to strike a major deal that may or may not include a change of control of Xerox, according to people familiar with the matter. Shares in Xerox surged as much as 5 percent in after-market trading while stock in Fujifilm slipped as much as 2.3 percent.
Xerox used to be the copier king but has fallen on hard times as competitors from Asia such as Canon Inc. ate away at its dominance. Photocopying also isn't the business it once was, as email and other forms of electronic communications took over. The company spun-off its business-services operations into a new outfit called Conduent Inc. last year, leaving it stuck with the legacy arm.
Fujifilm may do better following in the footsteps of another camera company, Eastman Kodak Co., which earlier this week jumped on the crypocurrency bandwagon. That move has been met with a degree of skepticism, but at least Kodak is helping to create a new approach to keeping track of and monetizing content for photographers, as well as allowing agencies to take greater control of image-rights management. In other words, it's moving forward, not backward.

There are some reasons for keeping Xerox healthy. Fujifilm has a 55-year-old joint venture with Xerox in Asia Pacific -- Fuji Xerox -- and also needs the U.S. company strong so it can continue selling its products in North and South America and Europe, according to Joel Scheiman, an analyst at Pelham Smithers who publishes on Smartkarma. Fujifilm's cash may also be burning a hole in its pocket, especially after it lost out on the acquisition of Toshiba Corp.'s medical division to Canon.
But although it's probably true paper usage is more prevalent in Asia, the printing and photocopying of documents everywhere is dying out fast. If Fujifilm wants to continue along the more profitable path it's carving out for itself, then giving Xerox a wide berth is the better option.
To contact the editor responsible for this story:
Katrina Nicholas at knicholas2@bloomberg.net
Before it's here, it's on the Bloomberg Terminal.
LEARN MORE