The Music's Still Playing
Going Bust Is Out of Style and Junk Bonds Are Hunky Dory
Interest rates are rising for the right reasons.
By and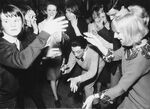 Fund managers, to paraphrase a phrase, have 99 problems but the junk-bond market ain't one.
There are manifold reasons for investors to worry about asset prices. Central banks are draining the world's punchbowls. Equity valuations have reached stratospheric levels. Volatility remains AWOL.
The outlook for speculative-grade debt, however, remains hunky-dory, at least based on the expected number of firms that won't be able to make their debt payments this year.
Moody's Investors Service predicts that the global default rate for non-investment grade companies will decline to 1.81 percent by the end of this year, the lowest since April 2008. Europe will see a default rate of just 1.1 percent by December, the smallest percentage of non-payments since August 2008.
It's not just Moody's that sees an upbeat ratings environment. The credit outlook for the first quarter of this year is the most positive for a decade based on the total universe of rating upgrades versus downgrades, according to Fitch Ratings.
The net balance turned positive at the end of November for the first time since the global financial crisis, Fitch said in a report. Upgrades beat downgrades by 1.1 percent, compared with a negative 7.9 percent balance just a year ago. And structured finance, the most ratings-sensitive sector of the market, posted the biggest recovery, climbing to plus 9 percent from minus 50 percent in 2012.

Companies have taken full advantage of the record lows in borrowing costs in recent years to lock in cheap money, extending the maturity of their financing as well as shifting more of their funding to fixed rather than floating rates.
So even as the Federal Reserve has raised interest rates and the European Central Bank has halved its bond-purchase program, spreads -- the difference between the yields on junk bonds versus government debt -- have remained well-behaved.
While higher interest rates are never exactly good news for sub-investment grade borrowers, it's important to identify the root cause of interest rate increases. If policy makers were responding to a systemic economic shock that prompted investors to shun risky assets, lower-grade corporate debt would get clobbered more than sovereign bonds.  
However, gradually rising interest rates as a function of economic recovery make corporate credit risk relatively more attractive to government bonds, not less. And the recent surge in oil prices will help the industry that's been responsible for more defaults than any other in the past year, with Moody's calculating that oil and gas companies accounted for 19 of the 82 defaults through November 2017.   
For sure, if the 30-year bull rally in government bonds is ending, low-grade debt won't be immune, as a rising yield tide will lift all borrowing costs. 
But a decade of super-cheap money is a gift that will keep on giving for companies that have been smart enough to take advantage of central bank largess -- even as policy makers take their collective foot off of the monetary accelerator.
To contact the editor responsible for this story:
Jennifer Ryan at jryan13@bloomberg.net
Before it's here, it's on the Bloomberg Terminal.
LEARN MORE