Catalog Concern
What Sainsbury Didn't Say
The catalog business may not be performing as well as the headlines suggest.
By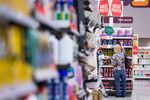 SAINSBURY (J) PLC
-1.00
At Closing, January 22nd
J Sainsbury Plc always likes to trumpet its achievements over the crucial Christmas trading season. Typically, the upmarket British supermarket chain prospers at this time of year as customers splash out on what they perceive to be its superior quality offerings.
This year was no different. On Wednesday, the company raised its guidance for full-year profit, saying that the cost savings from its 1.4 billion-pound ($1.9 billion) acquisition of Argos in 2016 were rolling in faster than anticipated.
Dig a little deeper, though, and the Argos catalog business's performance looks disappointing.
Total grocery sales rose 2.3 percent in the three months to January 7, a gain that really stems from price inflation. Volumes were in fact flat. General merchandise sales fell 1.4 percent. Clothing sales were up just 1 percent, compared with a 9.4 percent increase in the corresponding period a year earlier.
Some of the slowdown in clothing sales may have been due to the warm fall -- but this business has been an engine of growth for Sainsbury. If it is on the wane, investors should be concerned.
More troubling is the performance of general merchandise -- which includes Argos. The retailer says its effort to revamp the business hurt sales: it has closed more than 100 Argos outlets inside Homebase home-improvement stores as well as 60 stand-alone stores.
The retailer is also taking out some of the supermarket aisles it devotes to selling pots, pans and towels to replace them with Argos concessions. Eventually, Sainsbury says, there will be more Argos points of sale than when it acquired the chain. For now, though, there's a drag.
Without these factors, general merchandise sales would have been broadly flat. The retailer also said it had gained market share in both general merchandise and clothing.
Beyond the upheavals inherent in any M&A, there's a deeper strategic concern. Buying Argos put the supermarket chain in direct competition with Amazon.com Inc. and John Lewis department stores, not a comfortable place to be. Sainsbury noted that there had been particular competition in toys.
What's more, Argos's less affluent customers typically feel the squeeze on disposable incomes more than their wealthier counterparts. And guess what rising inflation and stagnant incomes are doing for disposable incomes?
This month has seen a chasm open between food retailers -- who've been helped by inflation -- and non-food retailers, who have been hurt as consumers reining in spending. The purchase of Argos puts Sainsbury on the wrong side of that divide.
What's more, the retailer didn't disclose how Argos's margins have performed. With the slump in the pound and intense price competition in the market, Argos's margins are unlikely to have fared well.
Investors may be cheered by Sainsbury's ability to find a little more money down the back of the Argos sofa. What the retailer isn't trumpeting may tell us more.
To contact the editor responsible for this story:
Edward Evans at eevans3@bloomberg.net
Before it's here, it's on the Bloomberg Terminal.
LEARN MORE