Potatoes, Yes. Sweaters, No.
Morrison's Christmas Spud Win Bodes Well for U.K. Grocers
Rising inflation probably lifted all supermarket boats.
By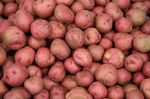 TESCO PLC
-1.90
At Closing, January 19th
SAINSBURY (J) PLC
+0.30
At Closing, January 19th
Britain's grocers have come a long way since the dark days of their price war four years ago.
In what is shaping up to be a less-than-inspiring Christmas for retailers, they look to be the winners. But the good times might already be ending.
Wm Morrison Supermarkets Plc kicked off the grocery reporting season with much better than expected holiday trading. Kantar Worldpanel, the consumer research group, estimated that Britons spent 1 billion pounds ($1.4 billion) more on groceries over the past three months -- that looks like quite a healthy increase on last year.
At least part of this is due to the impact of inflation. When consumers are being forced to spend more on the things they need, such as food, they have less left over for that sparkly Christmas top.
What's more, as Gadfly has pointed out, rising prices can actually be good for supermarkets, by boosting the value of their sales.
Morrison said the price of a basket of key holiday feast items was the same as last year, helped by low prices on vegetables, including potatoes, where it has made a particular effort to make its supply chain more efficient.
Its prices rose less than the average across the industry, suggesting that the company's strength extends beyond the benefit of faster price increases.
That should all bode well for Tesco Plc, however data from Kantar showed that it might have lost some of its sales momentum in the last few weeks running up to the holiday. Britain's largest grocer publishes its update on Thursday.
J Sainsbury Plc, which reports Wednesday, is more of a wildcard. It typically does well over Christmas, as shoppers trade up to what they perceive to be its superior quality. But its more than 1 billion pound purchase of Argos in 2016 increases the risk of a sales miss -- it's now in direct competition with Amazon.com Inc.
As for Morrison, David Potts, its chief executive officer, deserves credit for improving the fortunes of Britain fourth-biggest supermarket chain by market share. His efforts to develop Morrison's wholesale business, including supplying Amazon, are particularly paying off -- just look at the difference in the ratings. His company is now trading at a slight premium to industry giant Tesco. Not only is Morrison holding its own, its wholesale business has further potential.
But there are risks: its heartland is in the North of England, and so is particularly exposed to the German discounters, Aldi and Lidl, which had a fantastic Christmas, according to Kantar data. Tesco's buying power will be boosted by its acquisition of Booker, while Wal-Mart Stores Inc.'s Asda is finally getting its act together. 
Another niggle is that it didn't upgrade its profit forecasts, despite its much better performance.
There's also a bigger danger across the broader supermarket sector. Food inflation has probably peaked, with prices easing in dairy and seafood. While that should be good for consumers' spending power, it makes it more challenging for grocers to generate the same value of sales -- unless volumes significantly step up.
When prices are rising, all of the big four can prosper at the same time. When inflation is flat, or there is deflation, they need a soft target to steal sales from. No British supermarket wants to be the victim in that environment. 
From Morrison's performance, it's unlikely to wind up as the sacrificial lamb.
To contact the editor responsible for this story:
Jennifer Ryan at jryan13@bloomberg.net
Before it's here, it's on the Bloomberg Terminal.
LEARN MORE