Spread Crunch
MiFID? Please. The ECB Corporate Bond Party's Still Going
Credit spreads are back to pre-crisis levels, but there's a good reason for that.
By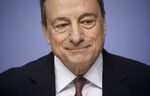 Amid all the hullabaloo over MiFID II, the European corporate bond market is still looking pretty healthy. And it's likely to stay that way for much of the year, thanks to the European Central Bank.
This week has seen 31.5 billion ($38 billion) euros raised versus 44 billion euros at the same point in 2017. A 28 percent drop, probably due to caution over MiFID II, is not a crisis and probably reflects lower secondary volumes.
More important than volume in determining the state of the market is credit spreads, and these continue to make new lows. In line with recent performance, spreads on two-thirds of the new issues this year have tightened. No change here in the bucolic backdrop.
The catalyst is the European Central Bank's corporate sector purchasing program. It is now the proud owner of 131.6 billion euros of company debt, including 80 billion euros of purchases in 2017. Citigroup Inc. analysts expect the ECB to pick up another 60 billion euros by September, topping the 200 billion-euro mark by the summer.
It's had a pronounced effect on credit spreads, which have narrowed by about half since the program started in June 2016. As a result, investment grade five-year credit-default swaps are now as tight as just before the financial crisis hit in 2007.
The knock-on effect can also be seen in sectors that the ECB doesn't buy -- high yield and financials -- which benefit from offering a modicum of return. And its activity is increasingly in primary issuance, which now comprises more than 15 percent of total purchases. Central banks are also struggling to get liquidity in secondary markets, it seems. 
The ECB's broader quantitative easing program will halve this month to 30 billion euros -- but corporate bond buying probably won't take the same relative hit as government bonds.

Naturally, President Mario Draghi hasn't revealed exactly how much support the ECB will continue to give the corporate bond market. He's never been particularly clear throughout the bank's entire QE program on this subject. He was asked about it at the December press conference, and avoided an answer, except for saying that "it will remain sizable," which isn't particularly useful.
But given that he is well aware of the dangers of starting a taper tantrum, it's reasonable to expect no big reduction in the CSPP. In fact, the percentage the CSPP forms of its broader asset purchases could double to over 20 percent by the planned end in September -- if Citibank's prognosis proves correct.
Add to this that the economy is improving, and it is perfectly logical that credit spreads tighten -- only a systemic economic downturn would really rock corporate debt more than government bonds, which have the ultimate support. So in an world of negative-yielding European sovereign debt, companies should continue to be able to raise money at not much above zero. 
For now. As long as the ECB continues to support corporate issuance at this pace then the investors who have to put their money in euros can similarly breathe easily. For the rest, if you insist on getting some sort of yield for investment-grade debt then try another currency.
To contact the editor responsible for this story:
Jennifer Ryan at jryan13@bloomberg.net
Before it's here, it's on the Bloomberg Terminal.
LEARN MORE