$850,000 Cheap
Spark Should Spark a Pricing Trend
$850,000 for a possible blindness cure looks cheaper in context.
By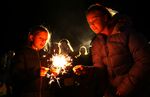 SPARK THERAPEUTICS INC
+3.29
At Closing, April 26th
When is an $850,000 drug something of a bargain?
When it could have cost $1 million or more, and when some of that $850,000 gets paid back if the drug doesn't work as expected.
Spark Therapeutics Inc. announced lower-than-expected pricing and a performance-based discount program Wednesday for its recently approved gene therapy Luxturna, a one-time treatment that helps restore sight for patients with a rare genetic condition. It's a risky move for the company; there are very few such patients, and the price of every treatment matters a great deal.
But it's the right move, and highlights a recent trend toward (relative) pricing moderation with big implications for the drug industry. 
Luxturna's actual cost is a little less shocking in broader context. Several highly profitable rare-disease drugs -- including Alexion Pharmaceuticals Inc.'s blockbuster Soliris -- can approach this price, yet are designed to be taken for years. Some hemophilia treatments can be even more expensive. 
Spark hasn't disclosed how much money it will return if sight benefits don't last. And it claims to be somewhat curtailed in its ability to offer large rebates by Medicaid's "best price" rules 1 . Spark also touts several other efforts to make the price easier to bear, including a direct deal with pharmacy benefit manager Express Scripts Holding Co. and a possible installment-payment program with the U.S. government. The company is clearly seeking to create goodwill with the payers shelling out for this medicine. 
The big question is whether Spark will be a trendsetter for other gene therapies or an outlier.
Spark may have a bit of extra motivation to offer pricing concessions in this case. Luxturna is the first approved gene therapy in the U.S.; Europe has previously approved gene therapies that have struggled to generate sales. 
And it's difficult to put a value on restoring sight. There is an enormous benefit to quality of life for patients and their loved ones. But the cost benefits are not as clear as they are for something like hemophilia, where a successful gene therapy could eliminate the need for years or decades of hugely expensive treatments. Drugmakers (including Spark, which is working on a hemophilia treatment) may use that sort of analysis to price future gene therapies at a premium to Luxturna. 
On the other hand, AbbVie Inc.'s hepatitis drug, a Roche Holding AG multiple sclerosis medicine, and Novartis AG's cell therapy for blood cancer have all recently priced below market expectations too.
Whether these moves were prompted by market analysis or a realization that it's no longer wise to shoot for the upper limit of what the market will bear, new drugs priced conspicuously higher will look bad by comparison and may have a tough time launching. 
The price of this drug is still staggeringly high, and performance-based rebates are still in their infancy. In order for such schemes to make a difference, more buy-in is required from payers and drugmakers, and the U.S. government needs to consider some rule changes. 
But pharma firms that stick to the industry's past pricing models rather than building on Spark's early work will pay a price, both commercially and in the court of public opinion. 
To contact the editor responsible for this story:
Mark Gongloff at mgongloff1@bloomberg.net
Before it's here, it's on the Bloomberg Terminal.
LEARN MORE