The start of 2018 marks the beginning of the European Central Bank's efforts to unhook financial markets from its life support machine by halving monthly bond purchases to 30 billion euros ($36 billion). The bond market is starting to pay attention.
As 2017 drew to a close, the German two-year yield started to climb above where it ended the previous year, the first time it's done so since 2013. It remains in negative territory, though not so deeply as it was at the end of 2016.
But it's not just the prospect of the ECB scaling back its bond-buying program that's driving yields higher. An improving economic backdrop is finally stirring inflation expectations in the euro zone, reflected in a steady ascent in the five-year forward rate on five-year inflation swaps in the past six months.
In the question-and-answer session at his most recent press conference, ECB President Mario Draghi was at pains to stress that what was previously an economic recovery is now a full-blown expansion, a theme he returned to on seven different occasions in less than an hour. "We haven't used the word recovery; we use the word expansion," he said last month. "As a consequence, also the component coming from the forward guidance of interest rates will gain further and further importance."
January is typically a heavy month for European government bond new issuance as national treasuries look to get a jump on their annual funding schedules. Some 100 billion euros of regular auctions across Europe this month will be comfortably offset by 125 billion euros of redemptions from maturing debt.
But one-off syndicated bonds, raised by investment banks rather than direct auctions, could be the swing factor. January 2017 saw 38 billion euros of syndicated European government bond supply, and there could be a similar amount this year. 
Spain, Belgium, Ireland, Portugal and Italy are all expected to announce sizeable long-dated syndicated bonds this month. Austria and Finland could also come with opportunistic deals.
Moreover, investors have noticed that the global economy looks healthier than it has done for years, with countries improving on a synchronized basis. 
Some 83 percent of investors consider global bonds to be overvalued, according to Bank of America Merrill Lynch's December survey of 203 investors overseeing $558 billion of assets. That's near the record 85 percent reached in October.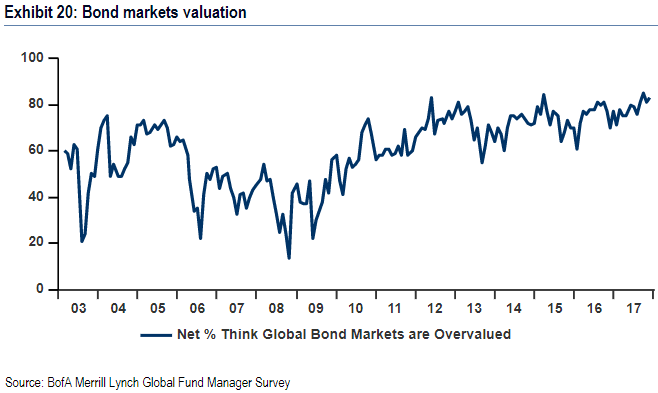 In Europe, government bond sales may decline slightly in 2018 from 2017. But that reduction in supply pales in comparison with the ECB tapering its quantitative easing program by 270 billion euros in the first nine months of the year. 
The ECB has signposted its intentions clearly, so the prospect of a bond-market tantrum remains slim. But against the background of reduced central bank buying and a buoyant economy, the negative yields that still prevail in many European bond markets look increasingly anachronistic. 
This column does not necessarily reflect the opinion of Bloomberg LP and its owners.
(Corrects second paragraph to show yields fell for the first time since 2013.)
To contact the editor responsible for this story:
Jennifer Ryan at jryan13@bloomberg.net