Smart Money
HSBC's Time for Tucker
Three months into the new chairman's tenure and the future is looking bright.
By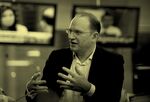 HSBC HOLDINGS PLC
+0.10
At Closing, January 19th
AIA GROUP LTD
+0.15
At Closing, January 19th
HSBC Holdings Plc's Mark Tucker is both blessed and cursed.
The former AIA Group Ltd. chief is the first outsider to helm the venerable London-headquartered bank, taking over as chairman on Oct. 1 from Douglas Flint after outgoing CEO Stuart Gulliver had largely done the tough work of retrenching staff and pivoting toward Asia.
Bad loans are down, net interest margins are up and HSBC has a smaller global footprint. It's axed more than 87,000 jobs and exited some 80 businesses since 2011. Buoyed by sales gains in Asia, HSBC reported its third consecutive quarter of revenue growth in October, on track for its first annual top-line expansion in six years. A spate of buybacks has added to the allure after the bank scrapped its long record of progressive dividends last year.
Now, it's time to grow again, but with a more specific focus.
Asia accounted for 74 percent of HSBC's third-quarter pretax profit, up from 69 percent a year earlier. A rebounding Chinese economy is helping; HSBC has launched its own-branded credit card there and has plans to expand its securities joint venture. It expects the Pearl River Delta region will add $1 billion to pretax earnings over the next five years.
Tucker's famously aggressive and workaholic nature will help where his banking expertise falls short: While running AIA, he took his role as a director of Goldman Sachs Group Inc. seriously, often attending board calls that were held in the early hours of the morning in Hong Kong.
The 59-year-old had a brief stint more than a decade ago as the group finance director of HBOS Plc, the British bank that almost collapsed during the credit crisis, and served as CEO of insurer Prudential Plc prior to joining AIA in 2010. Egg, the online lender Tucker launched while at Prudential, shrank in value and wound up being sold to Citigroup Inc. in 2007 for less than half its IPO value.
But Tucker was key in transforming AIA into one of Asia's top insurers: the value of its new business surged more than four times to $2.75 billion in 2016 from $667 million in 2010. Boosting policy sales at HSBC, which has a large retail presence in the region and now counts Ping An Asset Management Co. as its second-biggest shareholder, will be low-hanging fruit.
A bigger challenge will be defending HSBC's market share against aggressive mainland competitors. Chinese banks are increasingly making their presence felt in Hong Kong, due to its proximity to the Pearl River Delta, and because of its booming property sector. Declining U.K. housing prices, meanwhile, have the potential to leave HSBC's mortgage book there in bad shape.
Shaking up HSBC's conservative culture won't be a cakewalk either, as Matthew Westermann probably found after less than two years as co-head of global banking. That's twice in recent history HSBC has tried but failed to employ an outsider to create the more cut-throat environment required for investment banking.
And despite all the staff cuts, HSBC is still too big, with a "global silo-like business," according to Daniel Tabbush, an independent banking analyst who writes for Smartkarma. There isn't much selling across HSBC's main business units, and the lender's return on assets is among the lowest globally. Loan-loss-provision costs, at just 6 basis points in the first nine months of 2017, are well below the 32-basis-point average achieved between 2010 and 2016.
There are some areas that could do with a trim. France, for instance, is a low-return market and HSBC is a relatively small player in Mexico and the U.S., where its 2003 purchase of subprime mortgage lender Household International created headaches for years.
HSBC shareholders have enjoyed a total return of 35 percent this year, but that's a few percentage points shy of the Hang Seng Index at 39 percent and the Hang Seng Finance Index at 38 percent.
Still, if anyone can make HSBC a more dynamic bank, it's Tucker, who's said to have an "optimistic view" of how the lender can boost profits through expansion. He's a seasoned Asia hand and he's done it before at AIA, doubling that company's market value through a focus on winning new business.
Three months in, and the future's looking bright.
To contact the editor responsible for this story:
Katrina Nicholas at knicholas2@bloomberg.net
Before it's here, it's on the Bloomberg Terminal.
LEARN MORE