Lender Allure
MUFG's Indonesian Timing Looks Right
Market dynamics have changed since DBS pulled out of its Danamon bid in 2013.
By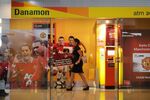 DBS GROUP HOLDINGS LTD
+0.06
As of 1:43 AM EST
BANK DANAMON INDONESIA TBK
+25.00
As of 1:41 AM EST
Timing is everything.
Hobbled by an aging population and negligible interest rates, Japan's Mitsubishi UFJ Financial Group Inc. is keen for growth and sees overseas expansion, particularly in Southeast Asia and the U.S., as key. In its moves to acquire 73.8 percent of PT Bank Danamon Indonesia, it may just succeed where DBS Group Holdings Ltd. failed.
Indonesia now is a different place than in 2013, when the Singapore-based lender pulled its $6.5 billion bid.
On Tuesday, MUFG said it had agreed to buy an initial 19.9 percent stake from Temasek Holdings Pte and units affiliated with Singapore's state investor. The Japanese bank then plans to next year increase its interest to the 40 percent foreign-investor limit, before applying to buy out all of the Temasek group's holdings.
MUFG's interest in Bank Danamon is understandable: It's highly profitable, and unique. The country's seventh-largest lender by assets focuses primarily on consumer loans and auto finance for mass-market customers, which means it doesn't compete directly with the more pedestrian larger banks, all of whom are state owned.
Indonesia's government is also becoming more amenable to foreign investors. While President Joko Widodo rode to power on a wave of political nationalism three years ago and has pushed for increased local-component content in manufacturing, he's also allowed full foreign ownership of some businesses such as cinemas and toll roads.
In addition, authorities have made clear they want to reduce the number of banks: Indonesia's financial sector is relatively concentrated, with the four state-owned lenders and 63 private banks representing about 39 percent and 41 percent of systemic assets respectively, according to Morningstar Inc. analyst Mari Kumagai, writing for Smartkarma.
For MUFG, the deal will likely have limited impact, considering its 303 trillion yen ($2.7 trillion) balance sheet. According to Kumagai, MUFG's strong financial profile will allow it to grow more aggressively with at least half of its 1 trillion yen acquisition budget remaining.
And while MUFG has ample cash, it probably doesn't hurt that Bank Danamon, whose shares have doubled since DBS bowed out (including a 15 percent jump Wednesday), is cheaper in dollar terms. Indonesia's rupiah has weakened 24 percent against the greenback since mid-2013, and 14 percent against the yen.
It seems this time, the Japanese may get lucky where the Singaporeans lucked out.
(
A previous version of this story was updated in the eighth paragraph to say that MUFG has at least half of its 1 trillion yen acquisition budget left.
)
To contact the editor responsible for this story:
Katrina Nicholas at knicholas2@bloomberg.net
Before it's here, it's on the Bloomberg Terminal.
LEARN MORE