A Perpetual Disruption Machine
Gina Miller, Establishment Wrecking Ball
Her causes embody the importance of politics for markets.
By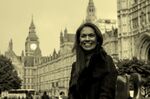 Gina Miller started 2017 with a groundbreaking Brexit victory. She ended it getting her way again.
For her, that's only the beginning. Her unrelenting disruption extends beyond politics, and it's not just investors who should take care. Her ultimate goal is a new British political system. The lesson for markets is to keep a close eye on politics in 2018.
Look past her day job as Chief Executive Officer of SCM Direct, a fund manager she owns with her husband, Alan Miller. SCM is a platform for her to wage one of her most important battles: forcing the big asset managers to reveal the fees they charge and their major holdings, as her own firm does. 
While this should wake the investing public up to what they are actually being charged, it's also a boost to her own shop. Miller doesn't disclose the assets under management, nor flows. That makes her position look both curious and inconsequential -- if she had a lot of funds to oversee, she'd tell us.
Whatever you think about the former conclusion, the latter is a mistake. She has the ear of decision makers in Brussels on the revised Markets in Financial Instruments Directive, new financial services rules that come into force Jan. 3 (though there's a six-month grace period for compliance). Achieving transparency on the total cost of investing is one of the key reforms behind the directive, and European regulators are doing more than just listening to her, she says she helped draft the rules. 
With many of the 28 euro area countries lagging in converting MiFID II into law, its easy to see how her competition could plead for more time. Though Brussels will offer some wiggle room to firms that miss the deadline, actual penalties are a black hole. But SCM says it's already compliant, something that Miller can turn into a marketing strategy.
The irony is the transparency Miller wants could be her undoing. It could aid the onslaught of the monster in the global fund universe, Vanguard. The 1 percent SCM charges looks a fortune compared to the four basis points at the U.S. giant, but compared to many active funds isn't all that bad. And paying higher fees can get better results. 
Even if her fund gets steamrollered in a race to the bottom against Vanguard's infinite resources, she has more disruption in store. This goes beyond her drive to force charitable organizations, whose 70 billion pounds ($93.5 billion) of annual income make them a significant investing force, to raise the share they spend on charitable activities.
Following her Supreme Court victory in January, when judges ruled Prime Minister Theresa May needed an act of Parliament to start the Brexit countdown, Miller warned against allowing ministers to change laws without consulting Parliament. May's defeat earlier this month showed lawmakers were having none of it. 
Miller's push for transparency and due process is undiminished. Were May to deny lawmakers a comprehensive Brexit bill to assess and a meaningful vote, she will be right back in the Supreme Court again. It's easy to see how discussions could degenerate into a one-minute-to-midnight scramble on March 29, 2019, with no time for legislative scrutiny.
Sterling markets should take care. The prospect that Miller will be continually thwarting the government's steps toward Brexit over the course of 2018 may saddle traders with the destabilizing volatility they endured at the end of 2016, as her first case wound its way through the legal system -- the pound sank to its lowest level against the dollar since the mid-1980s. 
The downside of her drive could be that it ends with the U.K. leaving the EU with no agreements in place, or undermines the government to such a degree that opposition Labour Party leader Jeremy Corbyn moves into Downing Street. While Miller wants neither of these -- she says getting left with World Trading Organization rules would be a disaster, and she's no fan of Corbyn's hard-left policies -- either would be a nightmare for financial services.
Regardless of how the U.K. departs, her next move will be to make the post-Brexit landscape as pro-European as possible. Her aim, which dovetails with French President Emmanuel Macron's, is to set Britain up to re-join as a satellite member in all but name, so that it influences the EU from outside. That may be anathema to Brexiteers but it is fundamental to understanding where her fight continues in 2019. 
She doesn't seem alone in her views. They're more than a little similar to those of Tony Blair and other party grandees who could easily form a new center-left party to fill the vacuum in the middle ground left by the Conservatives and Labor.
A significant role in a new national party might be sufficient to finally convert Gina Miller into the politician she seems to want to be. She would deny it. But if she wants to reshape the world in her image, it's hard to see how she avoids it. Traders who ignore her do so at their peril. 
To contact the editor responsible for this story:
Jennifer Ryan at jryan13@bloomberg.net
Before it's here, it's on the Bloomberg Terminal.
LEARN MORE