Photographer: Frank Masi/Lionsgate via Bloomber
Want to Spend Bitcoin at Amazon? Talk to Chuck (Norris)
What would the television star make of the year in business and finance?
By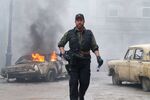 AMAZON.COM INC
+1.26
At Closing, January 19th
Chuck Norris didn't dial the wrong number; you answered the wrong phone. So the old joke goes about the paragon of omnipotence in the "Walker, Texas Ranger" television show. As the year draws to a close, it's time to check in and see what Chuck might make of the current world of business and finance. Here goes:
Chuck's global macro hedge fund still charges two-and-twenty. He's up for the year. And he's had zero withdrawals.
Chuck Norris has a version of Apple Inc.'s watch which is aesthetically gorgeous, on which everything functions perfectly and which never runs out of power. It's called a Rolex Oyster Perpetual.
He also has a version of the iPhone X on which he can listen to his beloved Dolly Parton through a headphone jack, rather than fiddling around with Bluetooth syncing and wireless earbuds. And Chuck can write on its screen using a built-in stylus. It's called a Samsung Galaxy S8.
Chuck Norris bought Bitcoin in July 2010 when it traded at 6 cents. His wallet has never been hacked. And he has an account at Amazon.com Inc. that accepts cryptocurrencies.
From 2022, the Financial Conduct Authority will take Chuck's word on what Libor should be, for all currencies and for all maturities. Hey, it beats the other ways of setting the benchmark rate for $350 trillion of securities.
Chuck Norris has been driving his Tesla Inc. Model 3 sedan for a year -- always in ludicrous mode. And he's been to Mars and back on one of Elon Musk's super secret rocket ships. Twice.
When German 10-year yields reached a record low of -0.205 percent in July 2016, Chuck Norris issued a perpetual bond. It pays zero coupon. It trades at par. And always will.
Chuck Norris was the mystery buyer of Martin Shkreli's Wu-Tang Clan album on eBay in September. He's never listened to it. He was willing to pay $500 million for Leonardo da Vinci's "Salvator Mundi" last month, but auctioneer Christie's refused to take his Bitcoin bid.
Chuck's yield curve never inverts. Ever.
To contact the editor responsible for this story:
Edward Evans at eevans3@bloomberg.net
Before it's here, it's on the Bloomberg Terminal.
LEARN MORE