Don't Bank on It
Livingstone's Commonwealth Culture Shock
Money laundering, misconduct. This bank's problems run the gamut.
By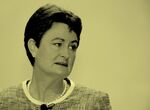 COMMONWEALTH BANK OF AUSTRAL
-0.98
At Closing, January 22nd
There's no better way to cap a storied business career than a stint atop one of the world's largest banks.
That's more or less the future that was mapped out for Catherine Livingstone when she was appointed chairman of Commonwealth Bank of Australia in January. The former state-owned lender was then the world's 10th largest by market capitalization, and the most richly valued among large banks after India's HDFC Bank Ltd. 1  
That valuation is befitting the sort of well-oiled institution a board could more or less leave to its own devices. CBA hasn't posted a net loss in more than two decades. An 11 percent drop in second-half income amid the 2008-2009 financial crisis is the only occasion in the past 13 years when profits have even fallen on a year-on-year basis. Already Australia's biggest bank by loans and deposits in 2012, CBA has taken more market share from its three main rivals in the years since.
Beneath the hood, though, things weren't running quite so smoothly. There were margin loans offered to customers for investing via a financial adviser that then collapsed; allegations of sharp practice and unconscionable behavior in the bank's financial planning and life insurance arms; and unanswered questions about CBA's involvement in rigging Australia's main interbank interest rate. 2
Claims these issues were a byproduct of a rotten corporate culture have dogged CBA for years, and have been growing in salience. Just three weeks after Livingstone, 62, was named to its board, Australia's top securities regulator took to a stage 10 minutes walk from its Sydney headquarters promising to scrutinize conduct in the financial sector.
In recent months, those problems have burst into a full-blown crisis. In August, the country's money-laundering regulator sued CBA over a failure to promptly report more than 50,000 suspicious transactions through its ATM machines, including some linked to organized crime and terrorist financing. After declaring that Chief Executive Officer Ian Narev had the full confidence of the board in the wake of that scandal, Livingstone announced his departure less than a week later. Last month, the government set up an official inquiry into misconduct in Australia's financial sector, a move banks had resisted until the very last moment.
Those stumbles over Narev and the banking inquiry were oddly maladroit moves for a director who has barely put a foot wrong in more than three decades.
An accountant and graduate of Sydney's Macquarie University, Livingstone drove a more than 10-fold increase in the share price of medical-devices maker Cochlear Ltd. as CEO in the five years after its 1995 initial public offering. After a stint as chairman of Australia's government science institute CSIRO, she became chairman of Telstra Ltd. in May 2009.
Taking over a company whose relationships with the public and government had been bruised by a combative former chief executive, her performance at the phone group was again a sparkling success. Already worth A$40 billion ($29 billion) when she arrived, Telstra saw its market value rise to about A$65 billion when she left seven years later.
That track record in transforming the internal culture of a former state giant running out of second chances no doubt recommended her to CBA's board. And the decisiveness of some of her first moves after the money-laundering scandal broke -- canceling executive bonuses, cutting director fees 20 percent, and hustling Narev out the door, however awkwardly -- illustrates a determination to grab the bull by the horns.
First order of business will be finding a new chief executive with an impeccable reputation in an industry where billions of dollars of regulatory fines have made such figures scarce. Given the scale of cultural change required at CBA, Livingstone will likely still need to drive this process from the top, even once her new management team is complete.
There are already early signs of a new spirit in the air. For years, Australia's banking industry seemed tin-eared in relation to a public that was at once its customers, shareholders and workforce. 3  That appears to be changing: The big four banks scrapped ATM fees in October, buying some much-needed customer goodwill. And even the volte face of calling for the government's banking inquiry to be set up just minutes before it was announced framed them as allies, rather than adversaries.
Still, if the stakes were high when Livingstone started at CBA, they're higher now. A role that once looked like the crowning glory of a long career is turning into her biggest test yet. 
The Australian Securities & Investments Commission hasn't brought charges against CBA over rate-rigging but is still investigating the case. It's settled with NAB and ANZ, and is taking its case against Westpac to trial.
To contact the editor responsible for this story:
Katrina Nicholas at knicholas2@bloomberg.net
Before it's here, it's on the Bloomberg Terminal.
LEARN MORE