Self Generation
Merry Christmas, Texas Power! Love, Texas Power
Tight production capacity could boost prices, but don't expect the gift to keep giving.
By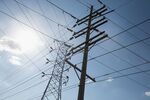 VISTRA ENERGY CORP
-0.06
At Closing, June 19th
NRG ENERGY INC
-1.02
At Closing, June 19th
Surprises are nice but, sometimes the best Christmas gifts are the ones you give yourself.
The Electric Reliability Council of Texas recently released its usual year-end projections of the state's power market. The outlook has shifted dramatically since May (which is when ERCOT releases its first take every year) in one crucial respect: reserve margins.
This is the level of spare capacity versus expected peak demand, and Texas' rule of thumb is that you want a buffer of 13.75 percent of that demand. Back in May, ERCOT projected a buffer of 18.9 percent next summer. That's been slashed by more than half to just 9.3 percent.
Greg Gordon, an analyst with Evercore ISI, has helpfully compiled data showing how these outlooks have moved over the years. To simplify things, the chart below shows just five years of projected reserve margins for each of the December reports going back to 2013 (I've also thrown in this year's May report for comparison):
This isn't because power demand is expected to surge; ERCOT has slightly raised its projected growth rate across the next decade, but the forecast for peak demand in summer 2018 has actually been cut by half a percent.
Instead, years of falling wholesale power prices due to all that excess capacity did their job and pushed power producers to shut down plants. A net 2.5 gigawatts of expected summer capacity has been taken out since ERCOT's last report in May. The biggest contribution to that came from Vistra Energy Corp., which is closing 4.3 gigawatts of coal-fired plants (the net number is lower because that measures both additions to capacity from elsewhere and factors in capacity utilization of different plants).
Shutting down facilities is rarely a cause for celebration in corporate circles. In this case, though, Vistra's self-help is not only good for the environment, but by tightening the reserve margin, it has perked up Texas power futures no end:
Shares in Vistra and NRG Energy Inc. -- another big Texas generator -- are actually lower or only slightly higher, respectively, since those futures jumped. This is probably because they've been overshadowed by other initiatives at both companies -- namely Vistra's acquisition of Dynegy Inc. and NRG's ongoing activist-inspired process of trying sell assets and cut costs.
That may change as summer gets closer. In Texas, wholesale power prices can jump to a cap of $9,000 per megawatt-hour when the grid is straining to meet demand. But, as Evercore ISI's Gordon pointed out in a report this week, the state's power producers haven't enjoyed such scarcity pricing since 2011, as excess capacity and the growth of cheap wind power have kept a lid on the market. The sudden drop in spare capacity could generate a few windfalls next summer, particularly if it's hotter than usual.
The flip-side of such prices is that they should encourage more generation. That doesn't necessarily mean more capacity getting built. The biggest source of power in Texas is natural gas, forecast by ERCOT to account for 65 percent of effective capacity next summer. Yet the state's gas-fired plants are relatively underutilized, running only 34 percent of the time in 2016, according to data from the Energy Information Administration. With cheap gas flooding into the region as a side-effect of surging oil output from the Permian shale basin, expect those plants to run more -- which is why Vistra's been buying them.
On the other hand, higher pricing could provide further momentum for renewable-power sources. Volatile electricity costs tend to make signing long-term power purchase contracts backing solar projects particularly attractive for corporate or industrial electricity customers. These two groups, which account for 63 percent of power consumption in Texas, are also likely to sign up for more energy efficiency and demand-management programs if prices spike. These have risen steadily over the years, from less than a gigawatt in 2014 to a projected 2.7 GW next year and 3.7 GW by 2022.
The last time ERCOT cut its projected reserve margin by anything like this year's dramatic move was in December 2011, when the level of spare capacity over the following five years was cut by 4.9 percentage points, on average, relative to the May report (this year's figure is 7.6 points). It's worth examining just how quickly supply and demand responded to that the last time around:
The message there is that Texas' power producers should enjoy their self-made Christmas gift, because it won't necessarily keep giving.
To contact the editor responsible for this story:
Mark Gongloff at mgongloff1@bloomberg.net
Before it's here, it's on the Bloomberg Terminal.
LEARN MORE