Passport Battle
Barnier's Brexit Warning Will Keep Blankfein Tweeting
A breakthrough in Brexit talks doesn't mean an easy ride for the the City of London.
By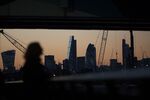 GOLDMAN SACHS GROUP INC
+5.15
At Closing, January 19th
TWITTER INC
-0.38
At Closing, January 19th
The 75,900 people following Lloyd Blankfein on Twitter have come to expect a regular dose of snarky Brexit commentary from the Goldman Sachs Group Inc. CEO.
Like a Zagat guide to euro-zone financial hubs, he has doled out praise to Paris -- "positive energy," "the food's good" -- and Frankfurt for its "nice weather," of course. The U.K. gets nul points. Blankfein frets he won't be able to fill up his new headquarters in London, warns that CEOs are "hand-wringing" over Brexit, and re-tweets polls suggesting Britons might be changing their mind about Brexit.
Some might expect him to hang up his keyboard in 2018 now that the negotiations have reached a breakthrough, with Theresa May and the EU preparing to haggle over the fine print of a trade arrangement rather than whether there's enough common ground to even start.
But that seems unlikely. While the angry drum-beat for the forced euro-zone repatriation of London-centric businesses such as euro clearing has receded, the point remains that U.K. financial services won't get a free ride after Brexit.
Michel Barnier, the EU's chief negotiator, reiterated that the City of London won't get any special deal as part of a bespoke trade agreement, telling The Guardian newspaper on Tuesday:
"There is not a single trade agreement that is open to financial services … In leaving the single market, [the British] lose the financial services passport."
So while the risks of a no-deal Brexit have receded, Barnier's megaphone diplomacy is a message to bankers like Blankfein that some things won't change.
This isn't a big surprise. The idea that Britain's financial-services passport would survive the country's transition from full EU member to a trading partner, in the mold of Canada, was always extremely wishful thinking. Even Switzerland, which has negotiated access to Europe's single market and accepts the free movement of people, doesn't have a financial passport. As central as London's capital market is for Europe, offering "a-la-carte" options to Britain after Brexit would make a mockery of the EU's approach to trade and a common rule-set. Access to the single market will likely have costs, from more regulatory oversight to business relocation.
But such headlines remind executives that the arc of Brexit tends towards uncertainty, even after this month's handshake over the U.K.'s divorce bill, guarantees on citizens' rights and the Irish border question.
The March 2019 exit deadline is only getting nearer, and there's a daunting set of trade and legislative hurdles that would need to be cleared in 15 months to get certainty on how Britain re-sets relations with its biggest trading partner.
Dodging the worst of "no-deal" chaos is welcome. But for executives making decisions on jobs, capital expenditure, and market opportunities, the U.K.'s relative attractiveness has taken a hit. While you can keep hitting snooze, the alarm will eventually go off, as business lobby CBI said recently.
Financial firms, start-ups and real-estate investments are still very much up for grabs in the eyes of rival EU hubs. Emmanuel Macron, who counts Blankfein among his fans, appeared on television over the weekend saying he wanted France to be a leader in finance -- not bad, considering his predecessor's dim view of bankers.
And the European Central Bank in Frankfurt keeps issuing stern warnings to any U.K. firm hoping to get away with a low-cost, outsourced solution of thinly staffed EU shell companies. It seems academic to argue over exactly how many existing jobs London will lose when even futuristic fintech start-ups are applying for European licenses.
With the Brexit saga far from over and set to play out in newspapers and on Twitter, expect Blankfein to continue his peregrinations around the world's favorite financial hubs. Next destination, New York?
To contact the editor responsible for this story:
Edward Evans at eevans3@bloomberg.net
Before it's here, it's on the Bloomberg Terminal.
LEARN MORE