Data Mining
Tencent. Retail. Makes Sense
Information is a powerful currency in China, where credit equals status.
By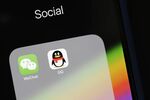 TENCENT HOLDINGS LTD
+8.40
As of 1:47 AM EST
VIPSHOP HOLDINGS LTD - ADR
+0.07
At Closing, January 22rd
Tencent Holdings Ltd. is doubling down on retail. Investors shouldn't act so surprised.
Days after confirming plans to pay around 4.2 billion yuan ($635 million) for a 5 percent stake in Yonghui Superstores Co., the Chinese social-media king announced it would outlay a similar amount for a similar stake in Vipshop Holdings Ltd.
Yonghui operates a chain of supermarkets, Vipshop is an online discount sales company. In the latter deal, Tencent is being joined by JD.com Inc. Tencent will invest $604 million and take its stake to 7 percent; JD.com is dishing out $259 million and ends up with 5.5 percent. They're paying a premium of about 55 percent to Vipshop's Dec. 15 closing price, according to a statement.
Tencent's stake in JD.com should be evidence enough of its interest in retail, and let's not forget that it also has a chunk of Craigslist-like 58.com. A tie-up with Guangzhou-based Vipshop has been rumored for at least two years, so this transaction seems to close that loop.
Best known for games and social media, Tencent has been aggressive in rolling out WeChat Pay and is throwing money at all sorts of ventures, including bike rentals, to drive traction. Platform ubiquity is the name of the game, and plugging holes means straying into territory otherwise considered to be the domain of Alibaba Group Holding Ltd.
And it's not merely about payments. Information is a powerful currency in China, where credit equals status and corporations rival the government in their collection of data on citizens. A recent piece by Wired magazine outlines just how powerful, and scary, this data-collection machinery is in what is a highly connected and controlled market.
Tencent needs stakes in supermarkets and discount retailers to ensure there are no holes in its data-collection net. Being able to track purchases of diapers, fresh produce and discounted running shoes provides insights that instant messaging and gaming can't offer.
To contact the editor responsible for this story:
Katrina Nicholas at knicholas2@bloomberg.net
Before it's here, it's on the Bloomberg Terminal.
LEARN MORE