Insurance-Industrial Complex
Humana Could Escalate the Insurance Arms Race
Single revenue streams are no longer enough for big firms.
By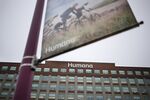 HUMANA INC
+0.99
At Closing, January 23th
UNITEDHEALTH GROUP INC
+1.65
At Closing, January 23th
Looks like we've got a trend, folks.
Weeks after CVS Health Corp.'s megadeal for Aetna Inc. and UnitedHealth Group Inc.'s purchase of a large physician network, the Wall Street Journal reported Sunday that Humana Inc. may acquire Kindred Healthcare Inc.'s home-care and hospice business. It's an overdue step for the insurer. And it's a sign the floodgates are opening for this type of deal. 
Everybody is playing diversification catch-up to UnitedHealth, which has spent billions on everything from a pharmacy benefit manager to ambulatory surgery clinics. Humana has made a few provider-focused acquisitions. But before the CVS deal, large insurers had mainly focused on smashing against the boundaries of antitrust laws.
There's compelling logic to expanding beyond insurance. It provides an additional revenue stream and helps the insurer provide care and other services at a lower cost. Ideally, that boosts profitability, which lets them offer cheaper insurance. It's been working for UnitedHealth, which insures more people and makes more money than anyone else in the business. 
CVS and Aetna have now joined the fray by combining a large insurer with a larger pharmacy benefit manager and an unprecedented physical footprint. 
Humana is heavily focused on Medicare, and that business would have to be top of mind in considering a Kindred deal. Kindred is the biggest U.S. home-care and hospice provider, and older patients are more likely to use those services. The Medicare Advantage market is getting increasingly competitive, and this deal should give Humana a cost advantage. 
Kindred has a heavy debt load, and its share price has fallen due to concerns about Medicare cuts -- meaning Humana may get it fairly cheaply.
The deal is also a relatively narrow way to accentuate a strength of Humana's. Its private equity partners will reportedly take over Kindred's less-complementary acute-care hospitals and rehab centers. That is arguably a better and more cost-effective move than entering multiple businesses at once or trying to go toe-to-toe with CVS or UnitedHealth in the PBM or clinic business. 
It's a sensible deal, one on which Humana can build with additional targeted transactions. It should be a blueprint for rivals who find that going it alone as an insurer is increasingly a competitive disadvantage.
To contact the editor responsible for this story:
Mark Gongloff at mgongloff1@bloomberg.net
Before it's here, it's on the Bloomberg Terminal.
LEARN MORE