Disney Dollars
Iger's Big Payout Is Guaranteed, Even If Disney's Fox Deal Isn't
The Disney CEO is in line for roughly $27 million in stock grants whether or not the purchase goes through.
By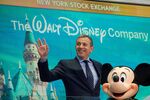 WALT DISNEY CO/THE
+0.09
At Closing, May 25th
TWENTY-FIRST CENTURY FOX-A
+0.09
At Closing, May 25th
There's been no shortage of deals in the past few years, particularly in the media business. Bob Iger, through a trio of them -- for Pixar, Marvel and Star Wars owner Lucasfilm -- has turned Walt Disney Co. into a movie-studio powerhouse. The profits from those studios have helped offset declines at its ESPN division, and in the process made Iger seemingly indispensable as CEO. In the meantime, Disney's stock has generally outpaced peers, though not the broader market. 
On Thursday, the company announced its latest acquisition, the $52.4 billion purchase of  21st Century Fox Inc.'s entertainment assets. The Fox deal coincides with something that none of those others did: a nine-figure-sum payout. And that's on top of Iger's target compensation, which could grow to $48.5 million after the deal.
Here's the part that bears watching: About a quarter of that large payout isn't dependent on the transaction necessarily being a success, or even actually happening. Roughly $27 million worth of stock will appear in Iger's bank account whether or not the deal comes true. 
Compensation consultant Brian Foley, who has constructed his fair share of big executive payouts, says Iger's bonus stands out. "If this was a normal grant on steroids that would be one thing," says Foley, referring to that $27 million. "But this is a grant on top of the grant on steroids."
A Disney spokesperson confirmed Iger will get 245,098 restricted stock units even if the deal isn't completed, but declined to comment further. In a filing with the Securities and Exchange Commission, the company says it has tied the stock grant to some unnamed performance measures in order to make sure the payments are tax deductible. 
The payout is part of as much as $142 million in stock grants Iger will receive under his new contract, based on where Disney's shares were trading on Thursday. The company, in its filing, says that $142 million is for Iger agreeing to extend his employment contract for another two years, not specifically for the Fox deal, even though the contract extension was announced on the same day as the deal and is contingent on the deal going through. 
Iger was already one of America's highest paid CEOs. He was awarded $37.7 million in compensation last year, according to Bloomberg's calculations. One would assume he got that lofty pay package because of what he brings to the company, including his ability to pursue or complete deals. Those skills are typically considered one of the key responsibilities of a CEO, especially someone in Iger's industry. 
The Fox deal is arguably a bigger and riskier bet than any of Iger's others. While it may work out just fine, that's far from guaranteed -- unlike a good chunk of his payout.
To contact the editor responsible for this story:
Beth Williams at bewilliams@bloomberg.net
Before it's here, it's on the Bloomberg Terminal.
LEARN MORE