Snack Attack
Campbell Risks Overpaying for Pretzels
The packaged-food maker may stretch itself to strike a deal for Snyder's-Lance. Desperate times call for desperate measures.
By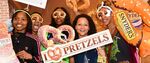 CAMPBELL SOUP CO
+0.26
At Closing, January 22rd
Snacks maker Snyder's-Lance Inc. is expensive and recently delivered third-quarter earnings that fell short of estimates. That's not stopping its growth-starved larger rivals from turning it into a takeover target.
The Charlotte, North Carolina-based maker of Snyder's pretzels and Cape Cod potato chips is weighing a possible sale after an approach from Campbell Soup Co., and remains in talks with the company and at least one other suitor, CNBC reported Thursday. Takeover prospects sent the stock soaring almost 13 percent to a record, giving it a market capitalization of $4.3 billion and a valuation that is far above its own five-year average and that of its peers.
A deal for Snyder's-Lance fits with Campbell's pivot toward segments that are actually delivering growth. As my colleague Tara Lachapelle has written, the waning popularity of products like soup is putting pressure on the $15 billion packaged-food giant to seek acquisitions so it can preserve profits and hold on to its share of shelf space at grocery stores. Just this week, Campbell closed on its $700 million purchase of organic broth maker Pacific Foods of Oregon, its biggest acquisition since 2012 and a transaction that it pursued even though it will be dilutive to 2018 earnings (which perturbed some investors). 
Snyder's-Lance obviously presents a much bigger bite. In fact, it'd be Campbell's largest deal ever, ranking ahead of the $1.5 billion purchase of WM Bolthouse Farms, a maker of fresh carrots, beverages and salad dressing from private equity firm Madison Dearborn in 2012.
Considering that an all-cash deal at a 25 percent premium would force Campbell to borrow extensively and propel its leverage ratio past four times pro-forma 2018 Ebitda, any transaction would likely need to involve stock. 1 For Campbell, whose stock has declined more than 25 percent since its peak in July 2016, giving up its currency at these levels in exchange for growth isn't such a bad outcome. And if at least 65 percent of the deal is paid for with stock and annual synergies of $150 million can be achieved, it would barely dent Campbell's 2018 earnings before becoming accretive in following years, according to data compiled by Bloomberg.
To be sure, a sweeter premium and a different cash-and-stock mix may be required to convince Snyder's-Lance's board and investors that they should tie their fate to their out-of-favor larger rival. Crucially, any deal would likely require the blessing of the founding family of Snyder's Bakery, which owns a combined stake of almost 17 percent, according to data compiled by Bloomberg. 2
Turbulent times call for drastic measures. The question is: At what price? 
Notably, any deal might cause Campbell to forego plans for additional stock buybacks, another method of bolstering earnings.
To contact the editor responsible for this story:
Beth Williams at bewilliams@bloomberg.net
Before it's here, it's on the Bloomberg Terminal.
LEARN MORE