game not over
Switching Views on Consoles
The gaming device may surpass the 3DS's first-year sales of 17 million.
By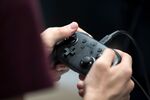 NINTENDO CO LTD
+1960.00
At Closing, January 19th
Apparently the games console isn't dead. Yet.
Despite numerous distractions for consumers -- from smartphone games to Netflix -- Nintendo Co.'s Switch has a chance of becoming the Japanese company's best-selling gaming machine in a decade.
With the 10 million mark recently surpassed and Christmas ahead, it's possible Switch may beat the 17 million mark set by the Nintendo 3DS in the 2011/12 fiscal year. Selling another 7 million units in the next four months will be a stretch, but even even if it comes within a few million, Nintendo will be able to celebrate.
There are many good reasons to believe that the games console's days are numbered. But there are also 10 million reasons to think it's got some life left in it yet.
To contact the editor responsible for this story:
Matthew Brooker at mbrooker1@bloomberg.net
Before it's here, it's on the Bloomberg Terminal.
LEARN MORE