Season's Beatings
Ho, Ho, No. Britain's Shopping Season Is Looking Grim
Carpetright and Dixons results are a red flag for retailers.
By and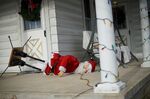 DIXONS CARPHONE PLC
+8.35
As of 6:05 AM EST
CARPETRIGHT PLC
-3.60
As of 5:10 AM EST
Advent calendars are all the rage in Britain's shops this Christmas.
The trouble is, the doors that have opened in the past few days for retailers have revealed some nasty surprises on trading and economic indicators.
A profit warning from Carpetright Plc has underlined the fragility of the U.K. consumer.
Although some of Carpetright's woes were prompted by a step-up in competition -- ironically from a new chain started by the family that originally founded Carpetright-- big-ticket items such as carpets and beds are typically one of the first things consumers jettison in tougher times.
On Wednesday, Dixons Carphone Plc reduced its guidance for full-year pre-tax profit for the second time in 2018. This was primarily due to Britons' reluctance to upgrade their mobile phones, and the later launch of the newest iPhone model.
Dixons said it had had a strong Black Friday trading period. But its second peak sales period -- Boxing Day -- is yet to come. So we haven't got the full picture of how they'll fare this holiday season. 
As Gadfly has argued, all Black Friday does is pull forward sales that would have taken place in December anyway -- and probably at full-price. 
This is certainly the case with John Lewis department stores' weekly sales -- a bellwether for broader U.K. trading. They were up just 0.1 percent in the week to Dec. 9, lower than the sales gains in each of the previous two weeks.
Snowy weather over one of the prime Christmas shopping weekends won't have helped much either. Retailers will hope consumers make up for it this weekend, but that is by no means guaranteed.
With incomes squeezed, Brits are feeling the pinch.
Inflation has been outpacing wage growth since March, and figures released this week showed the squeeze continued -- pay gained a paltry 2.3 percent, while consumer prices rose 3.1 percent. To make matters worse, food prices are increasing even more quickly, climbing 4.1 percent in their biggest jump in more than four years.
Meanwhile, Britain shed jobs at the fastest pace in almost two and a half years between August and October, in a sign that the labor market is softening.
That said, there will be winners and losers among retailers this Christmas.
Inditex SA, which operates the Zara chain, said on Wednesday that it had a good start to its fourth quarter, with sales in local currencies up by 13 percent from Nov. 1 to Dec. 11.
British food retailers usually get a boost at the end of the year, and this time they will have an extra lift from food price inflation. That should raise the value of their sales compared with 2016's festive period. The threat of snow can also prompt customers to stock up, also giving them an early lift.
Among the U.K. grocers, Tesco's sales growth was ahead of the other big supermarkets in the 12 weeks to Dec. 3, according to Kantar Worldpanel. That should give it momentum in the crucial food shopping days before Christmas.
But that might be it for the good news. Next Plc has typically been a strong performer over the holidays, but volatile trading this year, plus a decision to discount over Black Friday for the first time, puts that reputation at risk.
Once all the holiday sales results come in, it's likely to be a predominately downbeat picture. The outlook for the consumer might improve later in 2018, if inflation eases. But for British retailers, as well as shoppers, things are going to get worse before they get better. 
To contact the editor responsible for this story:
Jennifer Ryan at jryan13@bloomberg.net
Before it's here, it's on the Bloomberg Terminal.
LEARN MORE