Elegant Sufficiency
Hong Kong's IPO Indigestion
Nissin Foods' debut in the city doesn't bode well for other upcoming share sales.
By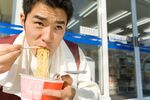 Not tech, not interested.
That seems to be the mantra of investors in Hong Kong as an instant-noodle spinoff fell as much as 12.4 percent in its debut Monday and Hebei Construction Group Corp. was said to price its IPO at the bottom of the indicative range.
The unit of Nissin Foods Co. is just one of a handful of Japanese companies listed in the city, along with the local arm of Uniqlo owner Fast Retailing Co.
That scarcity value, however, doesn't appear to trump the taint of a foodstuff increasingly deemed unhealthy. China's instant noodle market has shrunk in recent years as a growing middle class pursues a healthier diet. Nissin also lacks scale in China, the world's biggest packet noodle market.
Hebei Construction, meanwhile, is China's second-largest privately owned builder with projects in the much-vaunted Xiongan New Area outside of Beijing. People familiar with the matter told IFR it priced its HK$1.93 billion ($247 million) raising at the low end of the HK$4.46 to HK$5.36 range. While mainland real estate stocks have performed well in Hong Kong this year, being involved in a yet-to-be constructed city must be a harder sell.
It certainly doesn't bode well for the IPO plans of Chinese billionaire He Xiangjian, who founded appliance giant Midea Group Co. and is looking to list his property business.
Even being tech-related isn't a sure path to success anymore. Although the bulk of 2017's stars have hailed from a similar field -- think Tencent Holdings Ltd.-backed China Literature Ltd., internet car-loan provider Yixin Group Ltd. and ZhongAn Online P&C Insurance Co. -- most are struggling despite their early gains.
As Hong Kong prepares to abandon its principle of one share, one vote to attract technology companies and allow for dual-class stocks, it seems everything IPO, even instant noodles, is getting harder to digest.
To contact the editor responsible for this story:
Katrina Nicholas at knicholas2@bloomberg.net
Before it's here, it's on the Bloomberg Terminal.
LEARN MORE