Island Nation
Taking Back Control of the British Boardroom
The number of overseas bosses is on the wane, just as Brexit looms.
By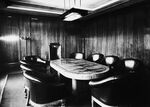 LONDON STOCK EXCHANGE GROUP
-59.00
At Closing, March 23rd
The U.K. has long prided itself on being open for business. Its top 100 publicly traded companies derive most of their revenue from overseas and boast a higher proportion of foreign bosses than the U.S, Germany and France. But that diversity is starting to fade -- just as Brexit looms large.
Recruitment firm Robert Half estimated earlier this year that the number of non-U.K. CEOs in the FTSE 100 had fallen to its lowest level in at least four years. As of April 30, the index featured 65 British bosses and 35 foreigners. While certainly more respectable than other countries, it contrasts with the snapshot a year earlier -- just before the U.K. voted to leave the EU -- when the tally stood at 60 Brits and 40 non-Brits. It's a small, but perceptible, shift.

There are now already more names to add to the departure list: Frenchman Xavier Rolet, of London Stock Exchange Group Plc, got the chop after a boardroom dispute. Olivier Bohuon, of drugmaker Smith & Nephew Plc, is stepping down next year in more orderly circumstances, though activist investors are circling.
Their replacements have yet to be found, so perhaps a non-Brit might still take the reins. But recent history suggests CEO appointments are increasingly found from within companies rather than without -- and that's where home-grown talent dominates.
There are likely many factors at play. As the job of CEO gets harder, the faster churn in the number of CEOs may mechanically make the U.K. less of an outlier in terms of foreign bosses.
Corporate governance demands, activist tilts, cyberattacks, regulations that threaten jail over misconduct in the financial industry -- they all add up. Positions are becoming harder to fill, and internal candidates are simply more likely to be Brits when the companies are headquartered there, according to Heidrick & Struggles partner Jenni Hibbert.
But Brexit is reviving an element of insularity that shouldn't be ignored. The U.K.'s financial services industry faces the loss of its passport to EU markets, while the free movement of people is under threat. Bridging strategic or cultural differences internally is bound to get harder.
Xavier Rolet's "operating style" was singled out for criticism by the LSE in its shareholder circular last month. Some say it's a sign that a certain breed of hard-charging, financial deal-makers might no longer be such a good boardroom fit in a post-Brexit Britain. Man Group's Emmanuel Roman, who campaigned against Brexit, left for Pimco a month after the referendum. French executives fed up of their own country's glass ceiling might not necessarily embrace the future City of London in the way CEOs like Tidjane Thiam -- now at Credit Suisse -- once did.
It's true that, setting aside its frankly terrible record on gender diversity, the FTSE 100 can at least still boast a C-Suite that's more geographically diverse than its peers. But even that lead is shrinking, something Brexit may very well accelerate. The kind of open culture embodied by Canadian Mark Carney's job running the Bank of England is under threat.
--Gadfly's Elaine He contributed graphics.
To contact the editor responsible for this story:
Edward Evans at eevans3@bloomberg.net
Before it's here, it's on the Bloomberg Terminal.
LEARN MORE