PARP Life
A Cancer-Drug Pricing Experiment Just Got More Interesting
Pfizer's new PARP-inhibitor trial data suggest more competition and pressure.
By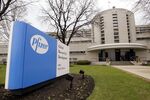 PFIZER INC
+0.17
At Closing, April 23th
ASTRAZENECA PLC
+39.00
At Closing, April 23rd
It's one of those good news/bad news situations.
The good news is that Pfizer Inc.'s cancer drug talazoparib -- which came with its $14 billion acquisition of Medivation Inc. in 2016 -- helps breast-cancer patients, according to late-stage trial data released Friday.
The bad news? Though comparing trials is tricky, the results look similar to those produced by AstraZeneca PLC's drug Lynparza, which is already on the market. If approved by the FDA, Pfizer's drug will be the fourth in a class of potentially interchangeable drugs called PARP inhibitors to hit the market.
It could push an experiment in cancer-drug price competition into overdrive. 
A series of ovarian-cancer trials from AstraZeneca, Clovis Oncology Inc., and Tesaro Inc. had already helped establish the sense these drugs were similar. The FDA seemed to endorse that notion by giving AstraZeneca a broad approval in ovarian cancer equivalent to Tesaro's, even though Astra's trial had focused on a relatively narrower group of patients. These breast-cancer results suggest the similarity may carry across cancers. 
Things looked very different in the summer of 2016. Then, Tesaro released data showing its PARP inhibitor Zejula worked in a broader-than-expected group of patients. Some analysts were convinced the medicine was unique and would substantially outsell its rivals. Meanwhile, Medivation was aggressively arguing its PARP inhibitor was superior and had a $30 billion-plus addressable market.
Such predictions now look misguided, as does Pfizer's willingness to boost its Medivation bid in part because of its PARP inhibitor.
The PARP inhibitor market is going to be split. The question is to what extent, and whether insurers, pharmacy benefit managers and other payers will use this crowding to lever down drug prices.
On this front, analysts have some catching-up to do. True, they have shifted their sales estimates between the market's various rivals. But they haven't changed their predictions of overall market size.
That isn't really how competition works. In other markets, when many similar drugs hit the market, price cuts follow.
True, this happens less often to cancer drugs than to drugs treating conditions such as diabetes or heart disease. But the number of drugs in play and their evident similarity makes this market a perfect test case for cancer-drug pricing pressure. The fact that these drugs are being tested in multiple cancers provides the motivation for payers to negotiate aggressively.
This won't happen overnight, and not every indication may be as competitive as ovarian or breast cancer. But it's hard to believe payers won't seize on a ready-made opportunity to cut drug costs.  
To contact the editor responsible for this story:
Mark Gongloff at mgongloff1@bloomberg.net
Before it's here, it's on the Bloomberg Terminal.
LEARN MORE