Berkeley bears
London's Housing Market Is Still a Money Machine
Bears targeted Berkeley before the vote to leave the EU. They were wrong.
By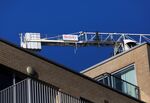 BERKELEY GROUP HOLDINGS/THE
+4.00
At Closing, January 23rd
Punters who wanted to bet against Britain in the run-up to the Brexit vote thought they'd found the perfect target in Berkeley Group Holdings Plc, a London-focused homebuilder partly reliant on inflows of foreign capital to purchase it's very expensive homes. Throw in a government decision to increase property transaction taxes and penalize purchases of buy-to-let homes, and you had a seemingly watertight bear case. It's turned out wrong. 
On Friday, Berkeley published remarkably healthy sixth-month figures. Sales jumped 14 percent, while pretax earnings rose 36 percent, compared to the same period a year ago. Looking ahead, the company raised its five-year profit forecast by 10 percent. The shares soared, extending a rally from the post-referendum nadir to 85 percent. 
When a homebuilder starts generating a return on equity in excess of 35 percent, 1 you can be forgiven for assuming it's been juicing returns with piles of debt, or is making hay from government subsidies (like some of its peers). Neither is the case here. Berkeley doesn't benefit as much from the UK's notorious Help-to-Buy loan program, and has hardly any borrowings. Net cash reached 633 million pounds ($852 million) at the end of October.
True, this could be as good as it gets. Berkeley's average selling price climbed 10 percent to an eye-watering 719,000 pounds because it happened to sell a lot of particularly expensive sites during the period. Having acquired plenty of cheap land after the financial crisis, then slowing down these purchases, earnings and cash flow have both been propelled higher. Analysts polled by Bloomberg expect Berkeley's earnings to peak next year.
For the time being, it's a money-printing machine. And, thanks to that un-geared balance sheet, it can afford to return plenty to shareholders. The stock yields 5 percent based on Berkeley's target to return 2 pounds a year for each share. 
While its order book has declined to about 2.5 billion pounds (slightly less than a year's worth of estimated revenues) and reservations are still 10 percent lower than in fiscal 2015/2016, that's not too bad considering Britain has been engaged in national self-sabotage for much of the past year. The country's housing shortage, low interest rates and weak currency -- which makes it cheaper for foreigners to buy a London property -- all remain supportive. The Brexit bears need a new whipping boy.
To contact the editor responsible for this story:
James Boxell at jboxell@bloomberg.net
Before it's here, it's on the Bloomberg Terminal.
LEARN MORE