Caffeine Hit
Whitbread Gets a Stir from an Activist
An activist is right to give the company a stir, but the best moment for a breakup may have passed.
By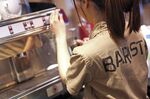 WHITBREAD PLC
-2.00
At Closing, February 22nd
An activist investor has finally woken up and smelt the coffee at Whitbread Plc. Sachem Head Capital Management LP, run by Bill Ackman protege Scott Ferguson, has taken a stake in the owner of Costa Coffee and Premier Inn.
The hedge fund, which owns a 3.4 percent stake through derivatives, isn't giving many clues about its intentions. But it has pushed for action in the past -- it has sought spinoffs at drugmaker Shire Plc.
If Sachem Head is looking for a break up of Whitbread, it has probably left it too late. Both the investor and the company have missed the best moment to extract the maximum value from the company's portfolio, especially Costa.
When Alison Brittain became CEO in December 2015, coffee shops were riding high on the back of a buoyant U.K. consumer. At the time, the unit was valued at as much as 4 billion pounds by analysts.
What's more, if she had sold or demerged Costa two years ago from a position of strength, she would have had a good chance of being able to hold onto at least some of the proceeds to reinvest in the business.
And, with significant M&A activity in the hotels industry, even more value might have been generated from a sale of Premier Inn to an acquisitive global hotel chain looking to fill gaps in their portfolio.
Fast forward two years, and Costa's like-for-like sales growth has slowed significantly. Competition, particularly from Greggs and McDonalds at the lower end of the market, has ratcheted up, not to mention the fact you can't walk into a retailer these days without being offered a free coffee under some loyalty program or promotion.
Meanwhile, with inflation outstripping wage growth, and the prospect of higher interest rates, the consumer is turning cautious.
Today, analysts value Costa at closer to 2.5 billion pounds. And even if Whitbread were to get that money, an activist would be likely to demand the proceeds be returned to shareholders.
Some surgery would still make sense. The company's breakup value could be more than 50 pounds a share, compared with Wednesday's closing price of just under 40 pounds. There could still be an opportunity to release value from Whitbread's portfolio of hotels: Credit Suisse analysts value the property assets at about 5.4 billion pounds.
With a hedge fund likely to join the debate about what the company should look like, Brittain's strategy of continued expansion, with a sprinkling of cost-savings, should at last be given a good stir. I argued 18 months ago that Brittain should cut back her empire, only for her to rule out a breakup. The trouble for shareholders now is that the company's assets are looking not so much hot as tepid.
To contact the editor responsible for this story:
Edward Evans at eevans3@bloomberg.net
Before it's here, it's on the Bloomberg Terminal.
LEARN MORE