BLUNT TRUTH
Sharp Needs Another Outsider
Now's not the time to return to an old-school Japanese manager.
By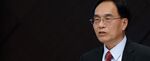 SHARP CORP
-20.00
At Closing, February 22nd
SOFTBANK GROUP CORP
-98.00
At Closing, February 22nd
It's time for Tai Jeng-wu to take a bow.
Sharp Corp.'s Foxconn-appointed president deserves any accolades that come his way after fixing the broken-down company and returning its shares to the First Section of the Tokyo Stock Exchange.
It's also time for Foxconn Technology Group chief Terry Gou to find another outsider to take over from Tai (pronounced Dai). He will stay in the job a little longer, delaying a pledge to step down once the stock traded on Tokyo's main board again, but the hunt for a successor is on. The field includes candidates from outside the company, Tai said Thursday, according to Bloomberg.
Speaking at the Fortune Global Forum in Guangzhou on Wednesday, Gou outlined the endemic challenges at the Japanese electronics maker and why he acquired it. Many Japanese managers, he argued, are more focused on saving their jobs than improving the businesses they're appointed to run.
The problem is particularly rife at older companies where leadership is already into its third or fourth generation, and less of an issue at first-generation firms like SoftBank Group Corp. or Fast Retailing Co.'s Uniqlo, Gou said.
The Foxconn founder seems to be right. Sharp shares have risen 41 percent this year after doubling in 2016. They fell 90 percent in the six years through the end of 2015. The company is on track to post its first net income in four years, and the largest since 2008.
Appointing an old-school Japanese manager would risk returning Sharp to the staid thinking that led to its demise. It's the same difficulty hobbling Toshiba Corp.'s attempt to pull off its own revival.
A year ago, I wrote that if Tai and Gou couldn't turn around an ailing Japanese company, then nobody could. Well they did pull it off, but now's not the time for Gou to rest on his laurels.
The Taiwanese billionaire broke the mold on managing a Japanese business. He needs to ensure the mold stays broken. Otherwise, Sharp may not stay fixed.
To contact the editor responsible for this story:
Matthew Brooker at mbrooker1@bloomberg.net
Before it's here, it's on the Bloomberg Terminal.
LEARN MORE