Expectations Game
Tax Plan Won't Make Buybacks Binge-Worthy
Investors' expectations for a boost in share repurchases are misplaced.
By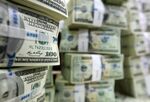 BANK OF AMERICA CORP
+0.30
At Closing, January 18th
One the biggest complaints about the Republican tax plan is that companies will use their newfound cash to buy back stock and reward shareholders rather than increasing wages or investment or doing anything that would boost the economy.
Increasingly, though, Wall Street strategists are questioning the size of any tax-fueled buyback, and that appears to be raising doubts about the tax plan among investors. The S&P 500 Index fell on Tuesday, down 10 points, or little more than a third of a percent. It was the index's third consecutive down day even as the pace of the tax plan becoming law has quickened.
On Tuesday, strategists at Bank of America were the latest to raise doubts about the expected buyback binge. U.S. equity strategist Savita Subramanian, in the bank's 2018 outlook, estimated that just 50 percent of the $920 billion in cash that S&P 500 companies have overseas and are expected to repatriate would be used for buybacks eventually.
That's lower than the general consensus on Wall Street that as much as 80 percent of the cash could be used for buybacks, she said. Indeed, shares of companies that have repurchased stock in the past, which have trailed the market for much of the year, have shot up lately, rising 4 percent in the past month compared with less than 2 percent for the market overall. More broadly, the Dow Jones Industrial Average has climbed some 5,700 points since Donald Trump was elected president, and the promise of tax cuts, as I have argued a few times, seems to be a big reason for that.
But the Bank of America strategists are not alone in thinking that investors' expectations of a buyback boost are misplaced. Much of that expectation is based on what happened after a similar tax break for repatriating corporate cash took place in 2004. An NBER study later found that nearly every dollar that was repatriated went to shareholders, much of it in the form of buybacks.
But that might not happen again. First, the repatriation of 2004 hit the market during a sweet spot. Stocks were still relatively cheap after the dot-com bust. In mid-2004, the price-to-earnings ratio of the S&P 500 was 19 based on trailing earnings. It is now 22. There are signs that companies have become increasingly cost conscious when it comes to buybacks, perhaps a reason that stock repurchases have slowed this year.
The second reason is that buyback binge has already happened but with debt, not cash. Corporations have issued a record amount of debt every year since 2010, and much of it has been used for buybacks. Vincent Deluard, a strategist at broker-dealer INTL FCStone Financial, who has written recently about slowing buybacks, contends companies have used low interest rates to prebuy their buybacks. The money they get from the tax plan will be used to pay down the debt, not for more buybacks or investment.
Finally, that $920 billion in overseas cash is held by a relatively few firms. Apple Inc. has 23 percent of it alone. Three-quarters is held by 20 firms. Worse, the industry with the most cash overseas, technology, which accounts for 69 percent of the S&P 500's overseas cash hoard, has some of the lowest tax rates. So even after the break on cash repatriation, they may end up being relative losers in the tax cuts overall.
So will the lack of buybacks mean companies actually spend the money on something economically useful? Probably not. Bank of America, like most other shops on Wall Street, included almost no economic benefit -- outside of the pure lower rate boost -- from the tax cuts in their earnings forecast for next year. On Tuesday, Subramanian said she couldn't find a single reason for any investor to buy into the stock market, or invest more money, because of the tax bill. Unfortunately, there appears to be many investors who have.
To contact the editor responsible for this story:
Daniel Niemi at dniemi1@bloomberg.net
Before it's here, it's on the Bloomberg Terminal.
LEARN MORE