Is Everyone Onside?
Real Madrid's Ingenious Boss
Florentino Perez has done the seemingly impossible with financing an Abertis bid, but he needs bond and equity investors onside too.
By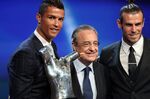 ABERTIS INFRAESTRUCTURAS SA
+0.04
At Closing, March 19th
Banks are falling over themselves to help Real Madrid president Florentino Perez amass 18.6 billion euros ($22 billion) to elbow aside the Benetton family and buy Spanish toll-road group Abertis Infraestructuras SA. It's good that Perez knows how to make friends -- he's going to need many more.
To recap, the bid is being spearheaded by Hochtief AG, a German construction group controlled by its Perez-led peer Actividades de Construccion y Servicios SA. Despite being one-third of the size of its target, Hochtief last week secured some 15 billion euros of bridge financing to fund the cash part of its offer.
Amassing such leverage is an impressive feat. A combined Hochtief-Abertis would have net debt of about six times forecast 2017 Ebitda after adding the deal financing. That would be high enough for a company that's 100 percent infrastructure, with stable cash flows from motorway concessions and the like. Yet the new entity would derive roughly a quarter of its Ebitda from Hochtief's less predictable construction business.
S&P Global Ratings, the credit rating company, has warned that the desired leverage puts Hochtief's triple-B rating, just inside investment grade, at risk. Keeping the ranking is critical to the project. Those jumbo bank loans will have to be refinanced in the bond market before long, and Hochtief will need the cheapness and reliability of investment-grade investors.
Hochtief aims to defend the rating by cutting leverage fast using disposals and a special debt issue that S&P would treat as quasi-equity. These measures, it reckons, would bring leverage down to 4.8 times 2017 Ebitda. That's still higher than the level at Abertis right now. Free cash flow generation should then bring leverage to a more prudent 3.7 times by the end of 2019. A plan to tap minority shareholders for 1 billion euros could accelerate this.
The structure maximizes spare debt capacity at Abertis. With the enlarged company's bondholders having first call on Abertis's stable cash flows, equity shareholders would be left relying more on Hochtief's cyclical construction business for their payouts.
Even with all this ingenuity, Hochtief needs to issue 3.6 billion euros of new shares to pay for the rest of its bid. Under the terms, its share price must be at least 146.42 euros for the share offer to be of equivalent value to the cash offer. Likewise, the planned fundraising from Hochtief's minorities won't fly if the share price is below this threshold. The stock dipped below that marker early on Thursday. Perez's nerves must be fraying.
It cleverly hangs together on paper. In practice, there are a lot of ifs and buts. Disposals could slip, jeopardizing the credit rating. Bond-market wobbles would push up the cost of the refinanced debt. The equity piece is in doubt if Hochtief can't get its share price back up. This is before considering the need to find more equity to outbid any counter-punch by Benetton-backed Atlantia Spa.
Perez has shown what can be achieved by pulling every lever to do the seemingly impossible. The banks are onside. If Perez wants to win this battle, he's going to have to make friends with bond and equity investors too.
To contact the editor responsible for this story:
James Boxell at jboxell@bloomberg.net
Before it's here, it's on the Bloomberg Terminal.
LEARN MORE