Christmas Cheer?
Credit Suisse Spares a Thought for Shareholders
Dividend promise is heart-warming. Credit Suisse just needs to deliver it.
By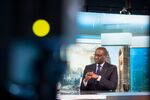 CREDIT SUISSE GROUP AG-REG
-0.28
At Closing, March 19th
Months after tapping shareholders for cash to bolster their creaking balance sheets, Europe's investment banks are lining up to present themselves as brimming with excess cash. Some are even starting to talk about dividends and buybacks -- heart-warming Christmas promises that not all may be able to keep.                     
On Thursday, Credit Suisse Group AG became the latest to dangle this carrot in front of frustrated shareholders, promising to return half of earnings to investors.
This echoes the confident talk of UBS CEO Sergio Ermotti, who recently said that a share buyback could be in the cards –- an implicit jab at beleaguered peers like Deutsche Bank AG and Barclays Plc that have forced investors to swallow dividend cuts as their restructurings drag on.
This potential for payback is reviving investor interest in parts of Europe's banking industry. It's especially important for a bank like Credit Suisse, which has raised capital twice on CEO Tidjane Thiam's watch and is being targeted by an activist investor who wants the company broken up.
The windfall could be big: according to Bloomberg data, analysts expect Credit Suisse to post an adjusted profit of about 3 billion Swiss francs in 2018, rising to 4 billion francs in 2019 and 5 billion francs in 2020. A couple of billion Swiss francs back in investors' pockets wouldn't be a bad reward -- though would still pale in comparison to the 10 billion francs the bank has raised through rights offerings since 2015.
Credit Suisse shares rose on Thursday morning, extending their rally from their June low. They're still below their 2015 level.
What is critical, though, is whether the money will start to flow from Thiam's effort to focus on wealth management and reduce the bank's reliance on volatile trading. The CEO has pledged to keep squeezing costs, to dump unwanted assets, and to cash in on falling funding costs. Provided the wealth-management motor keeps running, return on equity should rise to between 11 percent and 12 percent in 2020. This looks like an ambitious alpine climb: the comparable figure today stands near a feeble 4 percent -- near the bottom of the firm's European peer group, according to Bloomberg Intelligence.
Thiam is making the right noises, pledging, for example to keep a lid on bonuses. But the promises of greater IT efficiency, automation and snappy compliance aren't yet a reality. Revenue, too, has been hit as the bank tries to shrink in a low-volatility environment. Thiam deserves credit for raising capital earlier in his tenure and for focusing on shareholder returns now. But if he wants to open up more ground between Credit Suisse and Deutsche bank, he's not there yet.
To contact the editor responsible for this story:
Edward Evans at eevans3@bloomberg.net
Before it's here, it's on the Bloomberg Terminal.
LEARN MORE