Inner Strength
China's Bad Banks Get Worse
To attract strategic investors Great Wall Asset should focus on its core competencies.
By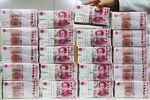 China's bad-debt managers have found a new lazy way to make money: property speculation.
China Great Wall Asset Management Co. is part of a consortium that paid HK$23 billion ($2.9 billion) for a portfolio of shopping malls from Hong Kong's Link Real Estate Investment Trust.
Great Wall Asset was established in 1999 to take soured debt off the books of lenders including Agricultural Bank of China Ltd., so what's it doing buying real estate in the world's least-affordable city?
It's not the first time China's bad banks have gotten creative with their accounting. As I noted earlier, China Huarong Asset Management Co. and China Cinda Asset Management Co. have been investing in offshore junk corporate bonds, where yields are appealing. It's a simple calculation: Use your quasi-sovereign status to raise money cheaply, and then invest it at higher rates elsewhere.
Collectively, China's four bad-loan managers 1 have raised $15.4 billion selling dollar bonds this year. Great Wall Asset sold $500 million of 3.875 percent, 10-year notes in August at 180 basis points over U.S. Treasuries. Its three-year securities pay 2.75 percent. The debt has a wide global reach, counting money managers such as BlackRock Inc. and AllianceBernstein Holding LP as investors.
It shouldn't be that hard for Great Wall Asset to make money on the Link REIT deal. The rental reversion rate for the firm's retail assets, or the increase landlords can achieve when multiyear leases are renegotiated, was 28.5 percent as of Sept. 30, 7.3 percentage points higher than a year ago.
What's more, Gaw Capital Partners is the consortium leader and it has a good track record of acquiring and refurbishing established properties. Great Wall Asset can let it do the heavy lifting and reap the improved income. The consortium could also sell some of the car spots that were part of the transaction, and parking-lot prices in Hong Kong are sky high.
Following in Huarong's and Cinda's footsteps, Great Wall Asset is also reportedly considering listing in Hong Kong. While the company said Wednesday it hasn't requested any IPO pitches, Chairman Shen Xiaoming has said previously there are plans to sell a stake of about 15 percent to 20 percent.
To attract shareholders, however, Great Wall Asset must convince investors it's good at doing its core job -- restructuring debt. And there's a mountain of that in China, which is only getting bigger.
At the same time, Hong Kong's property bull run looks to be entering dangerous territory as acquisitive state-owned enterprises fan prices. They're also brewing trouble in the bond market, helping to send Asia junk spreads to near their lowest in a decade.
If Great Wall Asset wants to attract strategic backers, it should get back to basics.
To contact the editor responsible for this story:
Katrina Nicholas at knicholas2@bloomberg.net
Before it's here, it's on the Bloomberg Terminal.
LEARN MORE