Track and Field
Beijing Backs the EV Tortoise
State-owned champions are getting a leg up in developing smart cars.
By and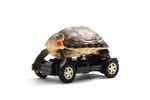 GEELY AUTOMOBILE HOLDINGS LT
-1.15
At Closing, March 23rd
DAIMLER AG-REGISTERED SHARES
-1.45
As of 3:05 PM EDT
In the race to bring electric cars to the world's largest auto market, the winner might not be the one on which investors are betting.
Geely Automobile Holdings Ltd. shares have surged 270 percent this year, outperforming every stock on the Hang Seng Index including tech darling Tencent Holdings Ltd., as the Chinese firm speeds along with plans to roll out electric cars and acquire foreign automakers.
Buoyed by a successful turnaround of Volvo Car AB and a major stake in Malaysia's Proton Holdings Bhd., Geely's overseas ambitions were underscored again on Wednesday with a Reuters report that it had made an offer to buy as much as 5 percent of German carmaker and ambitious EV developer, Daimler AG. Investors have also been counting on Geely to help lead the way on China's government-mandated ambitions to phase out fossil-fuel powered cars.
There's a challenge to this Chinese success story, though. State-run Chongqing Changan Automobile Co. is teaming with Ping An Bank Co. and China Minsheng Banking Corp. to invest 100 billion yuan ($15 billion) in new-energy vehicles, Bloomberg News reported Thursday. The partner of Ford Motor Co. and Peugeot SA in China will also use the funds to broaden its focus on smart cars, auto finance and ride-sharing opportunities.
Changan couldn't be more different than Geely in terms of the way it does business. While about half of Changan's cars are rebadged foreign brands, Geely makes its own automobiles exclusively, only getting involved with international marques via acquisitions.
That more entrepreneurial approach shows up in its financials. Geely hasn't marked an operating margin below 8 percent since the 2008 financial crisis, and has averaged 8.2 percent over the last nine years. Changan has made an operating loss in two out of three quarters over that period, with an average margin of minus 1.7 percent.
Geely is an exemplar of the savvy, profitable companies the world would dearly like to see emerge from China. Changan is the sort of bloated loss-making state behemoth most want consigned to the past. The problem is that Beijing's ability to put its thumb on the scales in favor of handpicked national champions means the fight to lead the country's EV revolution isn't a fair one.
Take that 100-billion-yuan investment. While neither Ping An nor Minsheng are technically state-owned, they're smart enough to put their money where Beijing wants -- and even in the costly world of automotive R&D, it's a phenomenally large sum. Geely's R&D spend over the past five years comes to a mere 1.3 billion yuan or so.
Daimler, which overtook Toyota Motor Corp. to become the second-biggest automotive R&D spender globally this year, is dedicating about half of its budget to green powertrain technologies, but that annual spend only comes to about a third of what Changan now has at its disposal. Worryingly for Geely, even if it were able to cement a partnership with Daimler, some of the German firm's euros are already likely flowing to its existing local partners, state-owned BAIC Motor Corp. and independent EV specialist BYD Co.
Changan's plan to end sales of internal-combustion-engine cars by 2025 is ambitious, and in line with China's own bold steps in that direction. Meeting those targets, as Gadfly has argued, will require some hard decisions.
The money would be better spent on nimble companies like Geely, Great Wall Motor Co. and BYD, which have a track record of investing wisely, and profitably. With Beijing's hand in the mix, however, it's at least as likely a state-owned tortoise wins this race.
To contact the editor responsible for this story:
Katrina Nicholas at knicholas2@bloomberg.net
Before it's here, it's on the Bloomberg Terminal.
LEARN MORE