Copacetic on Clearing
The Best News on Brexit Has Just Come From Germany
The financial cost of the Brexit bill pales in comparison to the fallout from losing financial clearing.
By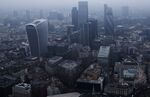 Good Brexit news has broken out in Europe, and some semblance of sanity as well. While investors are focused on progress in the divorce negotiations, the best development has actually come out of the Bundesbank. Executive board member Andreas Dombret has called for an agreement to keep financial services clearing in London. 
Now, the German central bank is not the European Central Bank, and this is just one official's opinion, but the Bundesbank is the adult in the room. As Gadfly said Tuesday, the brutal reality is that the European Union is neither ready nor capable of taking over the role that London fulfills.
Bank of England Governor Mark Carney's calls on Tuesday for urgent action on financial contracts have clearly resonated on the continent. It is good to see that central bankers at least are on the same page. 
"Intensive cooperation" is necessary for Brexit to proceed without disruption to financial services, Dombret said Wednesday. "I am convinced that this could obviate the need for a large-scale relocation of clearing business, at least from an economic standpoint." He's exactly right, because this is what's needed if Europe is to remain a stable place to do business and raise finance.
A hitch is that one of the key advocates for sense and reason, Xavier Rolet, is on his way out. He unexpectedly announced today that he would be stepping down as Chief Executive Officer of the London Stock Exchange immediately. He had also stressed that cooperation is the best way forward, saying in July that "there is absolutely no other option possible whatsoever, for countries to get along and agree on an organized prudential financial regulatory framework."
The timing of his sudden departure is unfortunate. What is vital is that Rolet's replacement can work with the European regulators to unlock a cohesive agreement on a very complex issue.
Hopefully sense will prevail on that subject. Meanwhile, the unexpected progress in Brexit talks is perhaps already paying dividends. It would be hard to see Dombret making these remarks were the U.K. still nowhere near even a prospect of settling its EU bill. 
Britain's Brexit payment looks like it will equate to about 2.5 percent of GDP, spread over four decades. That shouldn't be a big burden. Ensuring that euro-denominated derivatives clearing, and all that goes with it, stays in London is far more important for ensuring a smooth divorce. Losing it could, potentially, leave the U.K. with a much bigger hole in its public purse. 
To contact the editor responsible for this story:
Jennifer Ryan at jryan13@bloomberg.net
Before it's here, it's on the Bloomberg Terminal.
LEARN MORE