True Colors
Maybe Investment Banking Isn't HSBC's Thing
The Asia-focused lender should stick to its core competencies.
By and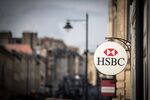 HSBC HOLDINGS PLC
+8.10
At Closing, March 16th
HSBC Holdings Plc just can't seem to crack Wall Street.
The latest piece of evidence? Matthew Westerman's departure, less than two years after he was recruited from Goldman Sachs Group Inc. as co-head of global banking.
His stepping down brings into focus the harsh environment in the big league of investment banking.
That's twice in recent history HSBC has tried but failed to employ an outsider to create a more cut-throat culture. John Studzinski, or Studs, was brought in from Morgan Stanley in 2003 but left three years later having hired a bunch of expensive executives that led to ballooning costs.
Those are short tenures at a bank where several decades of service tends to be the norm: Incoming Chief Executive Officer John Flint and current head Stuart Gulliver both started at the lender in the 1980s; Spencer Lake, HSBC's former vice-chairman of global banking and markets, who left last year, joined in 2006.
HSBC is also hamstrung to some extent by history. It can trace its origins back to 1865, when it was established to finance trade between Europe and Asia, and a male-dominated culture has long prevailed. Although about 50 percent of all employees are female, that percentage halves among management. And despite various restructurings that have shrunk the lender, layoffs in the clubby area of investment banking have been rare.
It's not that the division is unimportant. Global banking and markets, as it is called, is a key revenue source. For the third quarter ended Sept. 30, retail banking and wealth management accounted for 40 percent of total takings, with global banking and markets not far behind at 29 percent, Bloomberg-compiled data show.
Investment bankers also don't come cheap, so for Westerman to have grown the business would have required a large checkbook. After five years of overall revenue declines at the bank, that's a big ask.
What's more, HSBC has never been a large player in M&A, where aggressive pitching is required, or equities underwriting: Its bread and butter outside of retail banking and trade finance has been in debt-focused areas such as bonds and loans.
The London-headquartered lender is the biggest underwriter of G3-currency bonds in Asia ex Japan this year and tops the EMEA loans league table, but its showing in other areas is lackluster.

To be sure, excelling in arranging bond sales isn't a bad thing when companies globally are rushing to lock in low interest rates, but there are plenty of other banks swimming in that pool. It's also a business that doesn't pay too well: Fees are around half those of IPOs or M&A advisory, where payments can run as high as 5 percent of a deal's value.
HSBC's collegial style has won it fans in the gentler, client-driven area of trade finance, while its ubiquity in Hong Kong has helped support the retail-banking operations.
At its heart, HSBC is a lender focused on commercial and individual business. Maybe it's time to accept that.
To contact the editor responsible for this story:
Katrina Nicholas at knicholas2@bloomberg.net
Before it's here, it's on the Bloomberg Terminal.
LEARN MORE