Sweat It Out
Don't Mistake Japan's Symptoms for the Disease
The spate of scandals could be progress.
By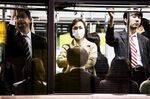 NISSAN MOTOR CO LTD
+8.50
At Closing, January 19th
TORAY INDUSTRIES INC
+7.00
At Closing, January 19th
Another week, another Japanese corporate scandal.
After two months in which Kobe Steel Ltd. and Mitsubishi Materials Corp. have admitted falsifying quality data for metal products, Nissan Motor Co. and Subaru Corp. confessed to allowing unauthorized workers to sign off on vehicle inspections, and airbag-maker Takata Corp.'s bankruptcy ground on, another shoe has dropped. Toray Industries Inc. found it fudged data for fibers used in automotive tires, sending the company's stock down 5.3 percent Tuesday.
It's tempting to view these metastasizing crises as a sign that the body of corporate Japan has been fatally weakened by years of malpractice. Is the long-heralded death of Japan Inc. just around the corner?
At the same time, though, something strange has been happening. The return on capital of the Nikkei 225 reached 6.89 percent earlier this month, the best result in records dating back to 2000. The broader Topix Index is just a sliver away from overtaking the Shanghai Composite on the same measure. Could sclerotic old Japan really be better at generating profits than thrusting young China?
There's not as much of a contrast between the two themes as you might think. Improved corporate governance, the "third arrow" of Prime Minister Shinzo Abe's economic reform program, isn't a painless process. An incoming CEO will tend to kitchen-sink legacy problems in his or her first few earnings announcements. Corporate boards do much the same thing when independent directors arrive determined to look under some rocks.
That shift has been drawn-out, but it is happening. The share of Topix companies with at least two independent directors has risen from 17 percent in 2012 to 85 percent in June, according to Japan Exchange Group. All but 8 percent of that group give the independent directors a say in pay and nomination decisions. The number of firms with performance-related compensation rose to 941 in 2016, or 26 percent of all listed companies, from 640 three years earlier.
Looked at through that lens, the recent spate of scandals could be a positive process. During its century-long rise and three-decade stagnation, corporate Japan has no doubt assembled a formidable array of skeletons in its closet. While better governance will uncover more bodies, it's also tangibly improving performance.
The market as a whole doesn't appear to recognize this yet. The enterprise value of the Topix, relative to blended forward 12-month Ebitda forecasts, is still well below the Shanghai Composite despite the improvements in profitability.
Japan Inc.'s swollen glands and fever are being taken as a sign that its body is succumbing to disease. In truth, they're evidence it's fighting back.
To contact the editor responsible for this story:
Katrina Nicholas at knicholas2@bloomberg.net
Before it's here, it's on the Bloomberg Terminal.
LEARN MORE