Clinical Depression
Brace for More Cancer-Drug Trial Failures
Immuno-oncology drugmakers are taking bigger risks for a competitive edge.
By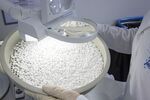 PFIZER INC
-0.02
At Closing, February 22nd
MERCK KGAA
-0.20
At Closing, February 22nd
Great risk sometimes leads to great reward. It can also lead to embarrassing failure.
Pfizer Inc. and partner Merck KGaA said Tuesday that a clinical trial of their immune-boosting cancer drug Bavencio failed to help previously treated gastric-cancer patients survive longer than chemotherapy. But the firms had set a high bar for the drug to clear, hurting its chances.
As drugmakers look for an advantage in the increasingly crowded market for this type of medicine, they are putting their drugs to ever-tougher tests. These drugs have a pretty high batting average in trials so far. It's likely to start dropping. 
There are five highly similar "immuno-oncology" drugs on the market, with more coming, so drugmakers are looking for ways to give their products an edge. Increasingly, they're trying to prove their drugs don't just slow disease progression, but help people live longer. 
Progression trial results have been sufficient to net a bunch of early FDA approvals for these drugs, but showing a survival benefit is the gold standard for cancer medicines. Any drug that manages it would have an edge on rivals. But proving such a benefit is difficult.
Some firms, meanwhile, are targeting broader groups of patients in the hope of boosting sales potential, rather than focusing on the subsets of patients most likely to benefit from these drugs. Others are testing their medicines against currently available chemotherapies rather than a placebo -- a much more difficult comparison. 
Both Roche Holding AG's Tecentriq and Merck & Co. Inc.'s Keytruda have failed to prove they could extend survival after initial progression-based approvals in bladder and head-and-neck cancer, respectively. Bristol-Myers Squibb Co.'s Opdivo failed a trial in lung cancer that tried to reach a broad subset of patients. 
Combining any of these strategies makes a trial even riskier, and Pfizer and Merck KGaA tried all three at once with Bavencio.
It's easy to fault them for running such a tough trial. But their drug is in a tough spot. Several of its competitors have a years-long head start. Without taking some risks, Bavencio is doomed to be something an also-ran. Even companies that aren't playing catch-up are setting tougher goals for their medicines. If they don't, they risk being overtaken. 
The inevitable consequence of the massive profusion of trials for these medicines and the ever-higher bars they have to clear will be unexpected trial failures. Investors in the companies involved need to brace for impact.
To contact the editor responsible for this story:
Mark Gongloff at mgongloff1@bloomberg.net
Before it's here, it's on the Bloomberg Terminal.
LEARN MORE