Dealing With Debt
Thomas Cook Investors Are Too Focused on the Jellyfish
Debt has come down and there's good news ahead. But Brexit could be a shark.
By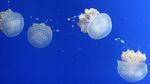 THOMAS COOK GROUP PLC
-0.90
As of 4:00 AM EDT
TUI AG-DI
+0.05
As of 4:05 AM EDT
Thomas Cook Plc's full-year earnings should have been as inviting as a sunny beach. But investors were too focused on the jellyfish in the water.
Revenue and underlying earnings were up, while there was another impressive reduction in debt.
Net debt fell to just 40 million pounds ($53 million) at Sept. 30 from from 129 million pounds a year earlier, and the company expects to have net cash by September 2018. It also improved its financial flexibility by refinancing a credit facility on better terms and extending its maturity profile.
That helped Thomas Cook lift its dividend -- only reinstated a year ago -- by 20 percent.
And the good news wasn't confined to the company's finances.
Demand for holidays to Turkey and Egypt, which fell sharply over the past two summers, is recovering. That's important because when consumers were worried about travelling to these destinations, they flocked to Spain instead, driving up the cost of hotels there. The strain was exacerbated by the slump in sterling. As Thomas Cook couldn't pass all of these costs on to consumers, that hurt its U.K. margins, which fell after four consecutive years of growth.
The Spanish inflation, together with rising fraudulent claims for illnesses and and helping customers caught up in Hurricane Irma, reduced U.K. tour operating Ebit to 52 million pounds from 87 million pounds.
Investors sent the shares down as much as 15.8 percent, putting them on a forward price to earnings ratio of about 9.5 times, compared with TUI's 11.9 times.
That looks harsh. There's some good news ahead for Thomas Cook.
A rebound in Turkey should drive costs in Spain down to more normal levels.
What's more, the company expects to benefit from the recent airline consolidation, which should reduce capacity in the industry. Business is booming at its Chinese joint venture with Fosun. That raises the prospect that Thomas Cook could become an acquisition target.
But there's one very big caveat: whether the British consumer starts to weaken.
U.K. bookings for summer 2018 are 27 percent sold, broadly in line with last year. But the average selling price is 6 percent higher. The danger is that inflation starts to weigh on holiday spending, as incomes are being squeezed and interest rates are rising. 
So far Thomas Cook has been on the right side of the trends, with Brits more willing to give up a new outfit for a week away. But with Brexit already hitting spending on sofas and cars, it would not be surprising if they added holidays were to the list of items where they're cutting back.
That wouldn't be a jellyfish in the water, but a shark. Then investors would be right to stay away. 
--With assistance from Gadfly's Marcus Ashworth
To contact the editor responsible for this story:
Jennifer Ryan at jryan13@bloomberg.net
Before it's here, it's on the Bloomberg Terminal.
LEARN MORE