Vertical Vertigo
Maybe Donald Trump Should Take a Look at Luxottica
Vertical deals need more scrutiny.
By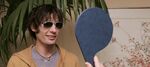 LUXOTTICA GROUP SPA
-0.54
At Closing, March 23rd
AT&T INC
-0.70
As of 3:11 PM EDT
AT&T Inc.'s chief executive Randall Stephenson has done little to hide his displeasure with the Justice Department's attempt to block his company's merger with Time Warner Inc. The lawsuit is "an abrupt change" in how antitrust law is applied, he says.
Indeed, if the U.S. government is getting more serious about tackling the competitive threats from vertical integration (when a deal brings together firms involved in different stages of the supply chain), this would be a pretty big departure. Trumpian politics can't be ruled out in the AT&T case, but a philosophical rethink was probably overdue anyway.
Regulators have tended to go easy on vertical mergers. If companies didn't compete directly with each other, a merger shouldn't harm consumers, the thinking has gone. If anything, prices should fall because of cost savings. Other antitrust concerns have usually been addressed via behavioral commitments, namely promises by the buyer not to discriminate against rivals -- with government oversight to make sure it complies. Big divestments have often been avoided. 1  
But it's flawed to evaluate mergers only on the basis of whether they'll lead to lower prices for consumers, an approach prevalent since the 1980s. For starters, a vertically-integrated company might make customers buy "bundled" products (thus shutting out rivals) or charge those rivals more to use its products.
And while firms seeking a vertical merger might not compete with a particular company right now, that may not stay true forever. Instagram or WhatsApp might have become rivals to Facebook Inc. if it hadn't acquired them. Vertical integration can create insurmountable barriers to entry too. An upstart might have to enter both stages of the supply chain to compete, but won't try because it's too expensive. 
The rise of "technology platforms", or gatekeepers, such as Apple Inc., Facebook Inc., Alphabet Inc.  and Amazon.com Inc. has made the reappraisal of vertical integration even more pressing, as this Yale Law Journal piece explains.
Tech conglomerates can use the data and market knowledge gleaned from companies that use their services to start competing with them. Earlier this year, the European Commission fined Google 2.4 billion euros ($2.8 billion) for skewing search results to favor its shopping comparison service and said the decision established a framework for assessing similar conduct. In other words, watch this space.
Interestingly, two megadeals involving elements of vertical integration are still awaiting U.S and EU antitrust approvals. Bayer AG's takeover of Monsanto Co. would create an even bigger integrated provider of pesticides, seeds and digital farming tools, while the merger of Luxottica Group Spa and Essilor International SA would create an integrated spectacles and lenses provider.
While the deals' proponents say they'll foster innovation, they might undermine competition. My reservations about the Luxottica deal are laid out here, while the European Commission's concerns about Bayer's deal are here. Unlike Luxottica, Bayer has offered to sell a big portfolio of assets to placate regulators.
"In theory, there's potential for the U.S. government to make a stronger case against vertical integration in the Luxottica-Essilor deal than with AT&T/Time Warner, given it involves a sensitive product category (prescription eyewear)," says Piral Dadhania, an RBC analyst.
Torpedoing a megadeal won't, of course, fix everything that ails today's competition-squashing markets. Still, if the Justice Department prompts more reflection about the potential harm of vertical consolidation, that's no bad thing.
Makan Delrahim, who heads the Justice Department's anti-trust division, thinks behavioral commitments are unhelpful, in part because they require too much government involvement in free enterprise.
To contact the editor responsible for this story:
James Boxell at jboxell@bloomberg.net
Before it's here, it's on the Bloomberg Terminal.
LEARN MORE