Chancellor of the Exchequer Philip Hammond will appear on the Westminster stage Wednesday to deliver the traditional episode of U.K. budget theater. Gilt investors aren't anticipating any great drama. But with expectations so relaxed, the risk of a nasty surprise from this fiscally accident-prone player is an ever-present danger.
Trapped between a weakening economy sliding toward the Brexit cliff edge and political infighting among his ruling Conservative Party, Hammond can't afford to frighten the horses by overspending. So a modest decline in anticipated bond sales in the current financial year followed by an increase in the coming half-decade is what bondholders are anticipating.
The question is how the Chancellor chooses to juggle several moving parts. The Office for Budget Responsibility will downgrade its economic forecasts, leading inexorably to higher borrowing in subsequent years. In the short-term, this is partially offset by slightly higher nominal gross domestic product growth this year and lower-than-expected net borrowing.
The official target for borrowing needs in the current fiscal year of 114.2 billion pounds ($151 billion) is already the lowest in a decade. Analysts, though, are expecting the outcome to be even lower.
The short-term drought of gilts will be exacerbated by around 18 billion pounds of bonds that mature on March 7, according to John Wraith at UBS AG. The Bank of England will reinvest this under the rules of its Asset Purchase Facility, which means the net supply to the market is set to be pretty much flat for the rest of this fiscal year. That should offer substantial support for very low yields.
Analysts have been scaling back their forecasts for where 10-year U.K. borrowing costs will end the year, with the current consensus in line with the actual yield of about 1.25 percent. By the end of 2018, analysts are predicting a modest increase to 1.7 percent -- still below the five-year average. 
It doesn't hurt that the Bank of England has pulled off its first interest-rate increase in 10 years with barely a ripple in the bond market. Policy makers doubled the official rate to 0.5 percent earlier this month; but in the past eight weeks, the two-year yield has traded in a range between 0.4 and 0.5 percent.
Property finances could create a hitch as Hammond indulges in some sleight-of-hand by removing Housing Association debt off the public sector balance sheet. That would give him about 4 billion pounds of extra spending firepower. Were he to decide to keep overall borrowing unchanged, this would have a direct impact on gilts as he would need to make up that amount with government bond sales.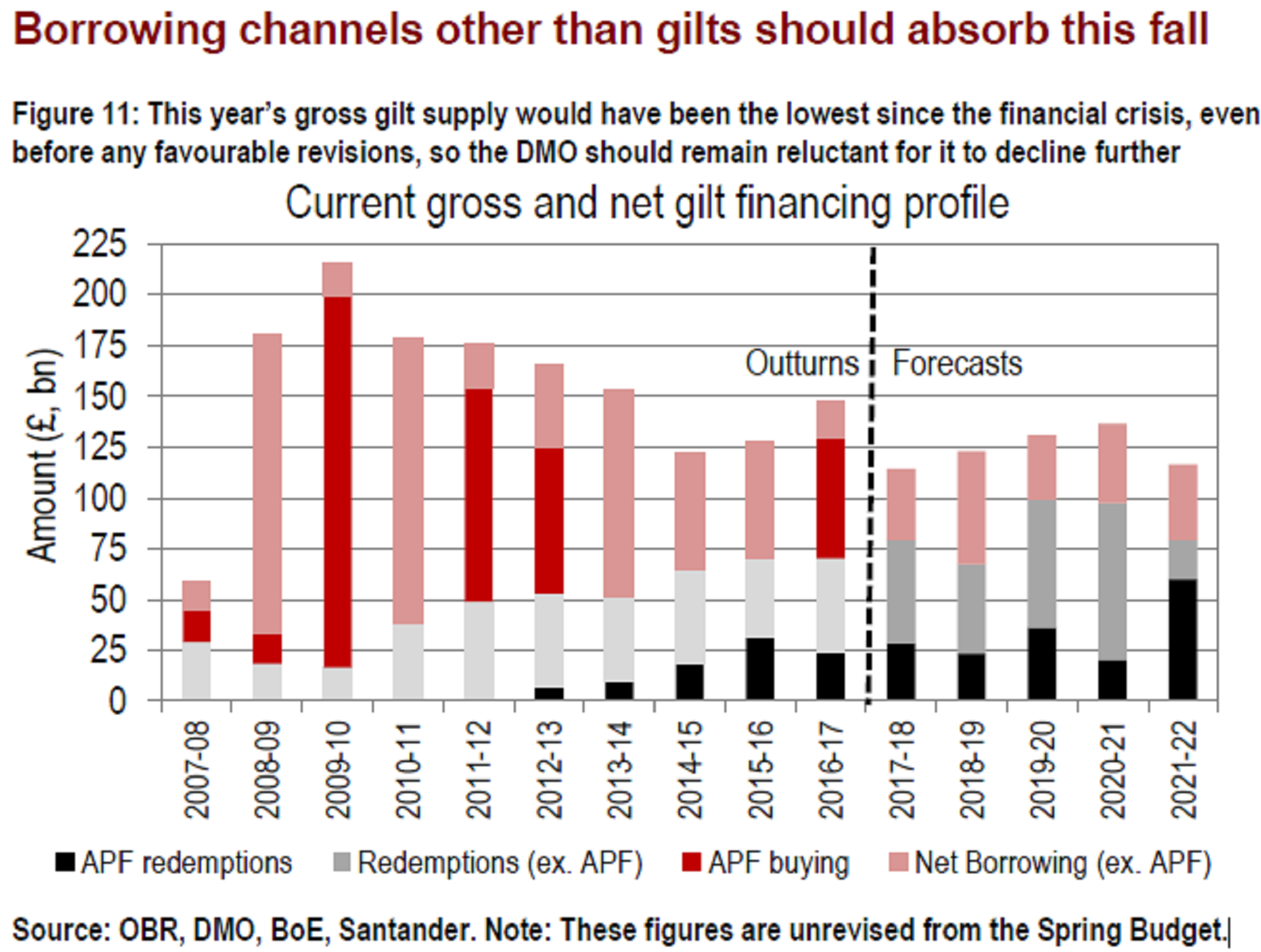 Investors are well aware that supply dynamic will sharply rise in future years; they also know that borrowing estimates can shift dramatically. But they have to deal with the here and now and, for the next year or so, there will be probably be fewer new gilts on offer (provided Hammond doesn't go bananas with budget giveaways).
That should keep gilt yields well supported regardless of potential future shifts in what is an increasingly unclear fiscal backdrop. But with Brexit an immediate danger to the U.K. economy, this week's budget forecasts could unravel quicker than a ball of wool in the paws of a kitten.
This column does not necessarily reflect the opinion of Bloomberg LP and its owners.
To contact the editor responsible for this story:
Jennifer Ryan at jryan13@bloomberg.net