Salvator Mundi means savior of the world. While it's a stretch to say the sale of the Leonardo da Vinci painting (well, the buyers hope it's by him) has saved the art world, it's certainly put a bounce in the step of the people whose job it is to demand ever more enormous sums for humanity's daubings.
The $450.3 million stumped up for the rediscovered Da Vinci is in a class of its own financially, of course. But it's also a very generous topping to what's already been a tasty autumn in New York and London's auction houses. Earlier this week, a Vincent van Gogh canvas sold for $81.3 million, just short of a record for the Dutchman.
After declines in global art market sales in 2015 and 2016, according to research firm Arts Economics, a recovery is underway. Much of this comes from more supply at the very top end, with works by Jean-Michel Basquiat, Cy Twombly, Constantin Brancusi and Francis Bacon all coming to auction. As seen with the Da Vinci, the sale of one ultra-expensive work can have a big impact on annual tallies. But the very fact that people are putting their works under the hammer shows the return of confidence after a couple of years in the -- relative -- doldrums.
While there's still Art Basel Miami to come in early December, the performance of the high end of the market, as seen this week, should be positive for 2017's final tally. According to Artprice.com, fine art auction sales in both the U.S. and the U.K. rose in the first 10 months of this year, compared with 2016. Sterling's slump obviously helped London.
Meanwhile, buoyant stock markets and robust economies embolden buyers and sellers. The MSCI World index of stocks is up 16 percent this year, triple its performance last year. All luxury markets do well when consumers feel rich and happy. Art's no exception.
Investors are looking for an edge, which isn't always easy with rising stock markets and poorly yielding bonds. Alternative assets like a Picasso or a Van Gogh are one way to go.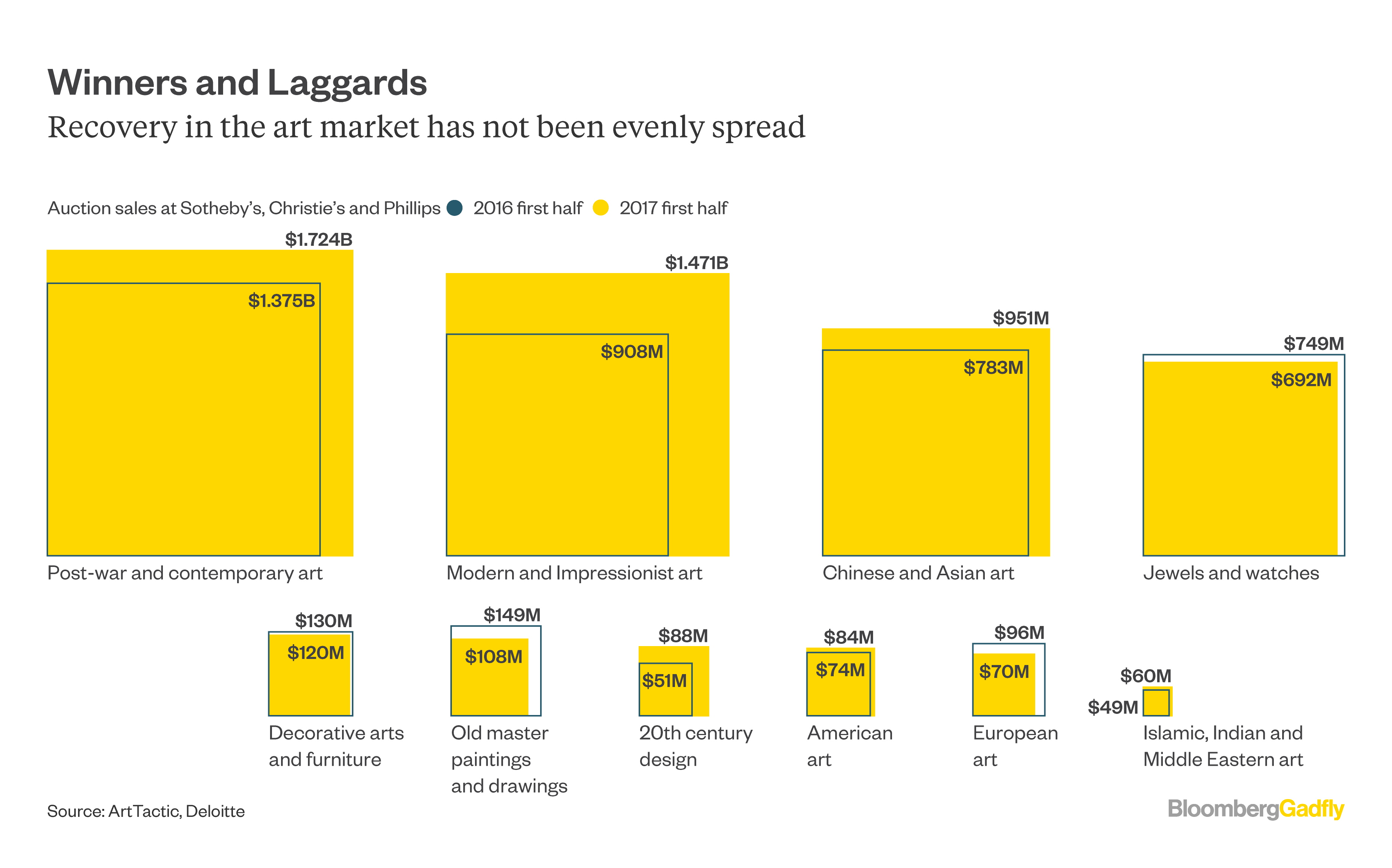 Still, nothing's guaranteed at these prices. A flawless 163-carat clear diamond sold for $34 million in Geneva this week, less than expected by some jewelry experts. A month earlier, a Francis Bacon painting offered for $78 million in London failed to attract any bids.
So while there are more buyers around, they're wary of being too reckless. The disappointing diamond price might reflect too the fact that Chinese buyers -- returning after the anti-extravagance campaign -- aren't yet back with a vengeance.
The question worth almost as much as an unearthed Da Vinci is will the recent momentum continue? The answer appears to be yes, though with caveats.
Recent sale prices should encourage more sellers to bring works to the market. But they may want to move quickly. While sterling has done wonders for the London auctions, there's still plenty of fear about as Brexit looms. According to a Deloitte poll, 38 percent of experts surveyed in June this year thought the U.K post-war and contemporary market would decline in the next 12 months. In January 2016, it was 9 percent.
Donald Trump is another mixed blessing. While tax cuts for the rich would lift demand, the loss of a legal loophole that has fueled the U.S art market might counteract that.
The corruption crackdown in Saudi Arabia is hard to read too. Sotheby's shares have faltered in recent weeks, in part because of Mohammed bin Salman's targeting of his fellow prince's assets.
That said, there's a chance the Saudi asset grab will be more modest than first thought. So long as people are bringing their best Warhols and Giacomettis to market, there's usually some wannabe billionaire Medici to snap them up.
With assistance from Gadfly's Mark Gilbert
This column does not necessarily reflect the opinion of Bloomberg LP and its owners.
To contact the editor responsible for this story:
James Boxell at jboxell@bloomberg.net