Adrift
Gap Can't Afford More Gap Years
There are still too many questions about how the retailer can hold its own in today's environment.
By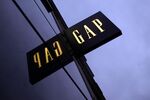 GAP INC/THE
-0.19
As of 2:51 PM EDT
Let me offer a quick rundown of what Gap Inc.'s Thursday earnings report told us about the company: Old Navy is healthy, chugging along with respectable sales growth. The Athleta activewear concept has big potential. The Gap chain is showing signs of life, and Banana Republic is a fashion wasteland in need of fresh direction.
Here's the key problem with the recap I just offered: With the exception of signs of improvement at the Gap chain, I could've written much the same paragraph about this company at this time last year. And the year before that.
Investors liked what they saw from Gap on Thursday, sending its shares up in after-hours trading after it bumped up its full-year guidance. I'm not able to muster such optimism, however, because I think there are still so many unanswered questions about how this company can hold its own in today's retailing environment.
When CEO Art Peck sought to tout Gap's strengths during an investor conference call in August, one thing he noted was that more than 60 percent of its sales are in the value segment of the apparel business. Some of that is because Old Navy has for several years been its largest chain by sales:
And Gap also has its Gap Outlet, Gap Factory and Banana Republic Factory concepts.
But I don't think this positioning is necessarily an advantage. The value end of apparel retailing is ruthlessly competitive and only getting more crowded. Fast-fashion stores such as H&M and Forever 21 still nab many budget-conscious shoppers' dollars. Target Corp. is offering more fashion-forward apparel. And as Gadfly has written previously, European retailer Primark could be a real threat in this category if it expands more widely in the U.S.
Acknowledging the difficulties at Gap and Banana Republic, the company has said it plans to lean more heavily on Athleta for growth. That's a sensible choice, in theory, as more consumers want to dress for active lifestyles. But I strain to be confident in Athleta's prospects because the brand is something of a black box.
We know Athleta is expanding, counting 140 stores at the end of the quarter, compared to 132 in January. But Gap lumps its sales figures into a division called "other," which includes some smaller retailing banners, so we don't quite know how fast or steadily it's growing.
Still, even that is enough data to tell us that Lululemon Athletica Inc., on a revenue basis, is flexing much more muscle.  
Athleta's prices are lower than Lululemon's, which lets it target a somewhat different customer, despite having similar-looking merchandise and stores. But I still want to hear more about how executives will differentiate Athleta from Lululemon and other competitors -- especially as the athleisure fad cools off.  
There's one thing I will give Gap credit for: It has improved its supply chain to react more nimbly to trends and get hot-sellers back in stock more quickly. We're seeing evidence of these changes in its assortment lately. On Gap's website right now are plenty of trendy items -- trousers with a track-pant-esque stripe, high-rise leggings, velvet ankle booties, a metallic skirt with accordion pleats.
But we have yet to see just how many shoppers can be brought back into the fold with these changes after Gap left them in the fashion wilderness for so many years. I have the same questions about Banana Republic, where the streak of comparable sales declines now has stretched for 11 quarters.
The return to positive comparable sales at the Gap chain offers some hints of what's possible. And I know the company is more focused on simply running Gap and Banana Republic efficiently now than on figuring out how to return them to high-growth mode.
But these latest results aren't quite enough to assure me the company has a sound strategy for its full portfolio of brands. 
To contact the editor responsible for this story:
Mark Gongloff at mgongloff1@bloomberg.net
Before it's here, it's on the Bloomberg Terminal.
LEARN MORE