Red Carpet Treatment
Why Give Aramco $2 Billion?
The government needs the IPO. The city sees more business from the GCC.
By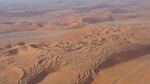 LONDON STOCK EXCHANGE GROUP
+6.00
At Closing, January 18th
British Prime Minister Theresa May is acting as if her job depended on persuading Saudi Arabia's state-owned oil company to go public in London.
In April, she visited the kingdom with Xavier Rolet, CEO of London Stock Exchange Group Plc. Regulators are conveniently changing the listing rules to clear the path for Aramco's offering. And the government has offered a $2 billion loan guarantee to the oil giant -- a deal a former top Treasury civil servant branded an affront to free markets.
She has little choice but to pull out all the stops. Losing the IPO would be a grave sign of London's diminished relevance as a financial center after Brexit. But there are commercial reasons to do all this that go beyond the totemic.
Winning the Aramco IPO would likely bring the city far more business from the Middle East in the form of advisory work, stock offerings and bond underwriting. The six countries that form the Gulf Cooperation Council will be a major focus for the U.K.'s post-Brexit trading strategy.
Flow begets flow. An IPO the size of Aramco should boost trading volumes in London and win future listings of size. To give one example, Abu Dhabi's state oil company is considering an IPO of its retail arm, which could be a $14 billion deal. Similar offerings from the Middle East could help London claw back some of the ground it has lost to New York in attracting the largest IPOs.
In the bond markets, too, other members of the Gulf Cooperation Council have followed Saudi's lead in issuing debt: together, the countries account for about $200 billion of outstanding debt. That figure is only likely to increase in future.
Some of the criticisms leveled against the government are hard to justify: similar guarantees have been extended before, including $2 billion to Oman's state oil company. And the LSE has some of the most relaxed listing rules in Europe. Aramco won't be the first contentious IPO in London.
May needs a quantifiable win to reset her government's increasingly frayed relationship with business. The city needs to protect itself from the effects of Brexit. That's why both are doing so much to woo Aramco. They'd better hope Saudi officials were bluffing when they talked about listing Aramco only on the country's domestic market.
(
Corrects number of GCC members in fourth paragraph.
)
To contact the editor responsible for this story:
Edward Evans at eevans3@bloomberg.net
Before it's here, it's on the Bloomberg Terminal.
LEARN MORE