Whatever Works
ConocoPhillips Needn't Fix What Isn't Broken
Little wonder it's doubling down on its strategy -- and that others are copying it.
By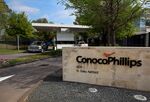 CONOCOPHILLIPS
-0.52
At Closing, April 20st
ConocoPhillips is that rare oil company that's having a really good year. So Wednesday morning's update of the new strategy it rolled out just over a year ago also served as an opportunity for a bit of chest-thumping:
Given that, it's perhaps little wonder that many others in the exploration and production industry have been getting with Conoco's program of late. That program boils down to emphasizing shareholder returns over growth.
It's little wonder, either, that Conoco is doubling down on its strategy. Front and center in Wednesday's presentation was this figure: <$40 a barrel.
This is critical. In a world where rallies in the oil price face headwinds from the higher tight-oil supply and erosion in demand those rallies encourage, the foundation of every oil producer's strategy has to be reducing its dependence on those rallies. That's as true for Conoco as it is for Saudi Arabia.
Despite a slew of disposals, Conoco says its resources that break even at oil prices below $40 a barrel have increased by 30 percent from a year ago. Overall, the average is $35; and Conoco was careful to emphasize that this price includes the cost of facilities, logistics, corporate overhead and a 10 percent return on investment.
This is due partly to Conoco selling higher-cost resources, most notably the Canadian oil sands position it offloaded to Cenovus Energy Inc. (just look at what's happened to Cenovus's stock price since then to get a sense of who got the better end of that deal).
It also reflects better margins and lower capital-intensity. As expected, Conoco cut its estimate of how much it needs to spend each year to keep production flat. What surprised was how big that cut was, dropping from $4.5 billion to $3.5 billion. For its three main types of output, the guidance for sustaining capital expenditure per barrel looks compelling:
In its tight-oil operations, for example, Conoco says it can almost double their production by 2020 using 11 rigs. Only a year ago, the projected increase using 11 rigs was only about 50 percent. That sort of productivity gain is exactly why OPEC this week boosted its forecasts for U.S. shale output. 
Conoco now expects to generate $5 billion of cash from operations at a $40 oil price. So take off $3.5 billion of capex and, even at that low price, the company can cover its annual dividend payment of $1.25 billion handily.
Oil isn't at $40, of course, so an important part of Conoco's messaging is what happens with anything extra. The rejigging of the portfolio has left Conoco better able to capture that "extra." Crude oil is now roughly half its output, versus less than 40 percent last year, with a lot of that enjoying access to international pricing rather than Nymex West Texas Intermediate pricing (which is important these days).
Sticking with the theme, Conoco said the priority for any extra cash flow would be shareholder payouts, keeping the balance sheet in check, and production growth -- in that order.
This is obviously music to E&P shareholders' ears these days, and the industry has a history of talking a big game but not executing (exhibit A: Conoco slashing its dividend in early 2016). So some skepticism is healthy.
That said, Conoco has clearly been delivering over the past year or so. As I wrote here, it has outgunned even Exxon Mobil Inc. on buybacks in 2017. Importantly, it has done this while also growing production at a healthy clip for a company producing more than 1 million barrels of oil equivalent a day. And that growth looks even healthier on a per-share basis, especially factoring in the steep reduction in net debt 1 :
Future delivery is all-important, of course. But Conoco's progress to date is undeniable. And with the oil market's horizon distinctly hazy, investors should be pleased with this new road-map. 
This metric is production per debt-adjusted share. Debt-adjusted shares consist of the shares outstanding at the end of each quarter plus a theoretical amount of extra shares that account for the company's net debt. These are calculated as net debt divided by the stock price at the end of the quarter. Using this metric adjusts for the company's mix of debt and equity.
To contact the editor responsible for this story:
Mark Gongloff at mgongloff1@bloomberg.net
Before it's here, it's on the Bloomberg Terminal.
LEARN MORE