The Ties That Bond
Tesla's Shareholders Had a Bad Week. They Weren't Alone.
The automaker's stocks and bonds took a beating -- and are still overpriced.
By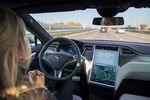 TESLA INC
-9.84
At Closing, April 20st
NAVISTAR INTERNATIONAL CORP
-1.00
At Closing, April 20st
Thursday wasn't a good day for Tesla Inc. The stock fell almost 7 percent and closed below $300 for the first time since May.
These days, though, there's another price marker for Tesla out there: the yield on its $1.8 billion high-yield bond, launched in August. This has spiked in the past week to 6.12 percent:
Having priced initially at a marked premium to the wider single-B index, Tesla's bond now yields ever so slightly more:
This makes sense. Tesla's production schedule for its crucial Model 3 vehicle has looked unrealistic for a while, and its earnings call on Wednesday evening did nothing to restore confidence in it.
Until Tesla gets to mass production of the Model 3, it is likely to keep using cash at both the operations and investment levels. Four-fifths of the money it's raised in public markets since March -- including the bond issue -- has been burned through already. Little wonder, therefore, that the bonds have dropped along with the stock.
The bonds, like the stock, still look overpriced.
As I wrote here in August, investors paid too much for Tesla's bond issue given the company's cash-flow profile and competitive challenges in trying to remake a cyclical industry. The relatively steady rise in the yield since then, until the past week's sharp move, can therefore be seen as a readjustment for bonds that were clearly too expensive to begin with.
Hitin Anand, an analyst at CreditSights, points out that truck-maker Navistar International Corp. priced $1.1 billion of bonds on Thursday at 6.625 percent. While Navistar is rated lower than Tesla -- at triple-C plus -- it generates cash from operations, is benefiting from an upturn in the U.S. truck market, and is deleveraging. Volkswagen AG's recent acquisition of a 17 percent stake in Navistar provides further comfort to creditors. Anand says there's "no way" Tesla's bonds should be yielding less than Navistar's.
Tesla's fans would likely scoff at the idea of comparing the company to a boring old truck manufacturer. But Tesla's current struggle to get its production line going speaks to more prosaic commonalities.
The real backstop for Tesla's bonds is its stock price. Despite having fallen a fifth from its peak in September, the company's market capitalization, at just over $50 billion, remains bigger than that of Ford Motor Co. There is an expectation that if Tesla ultimately needs to raise more cash, it can opt to sell more shares, protecting bondholders. And if things really turned dire, and the stock plunged, then acquirers would come knocking.
Perhaps. But while there is always a symbiosis between a company's bonds and equity, it is particularly strong in Tesla's case simply because the business, thus far, doesn't generate cash.
Bondholders are helping to finance Tesla's long-term vision, and assuming the risks inherent in that, but without the possibility of sharing in the potential windfall shareholders would get if the vision is realized. Getting paid 6 percent rather than 5 percent for that is better, sure, but hardly seems compelling.
To contact the editor responsible for this story:
Mark Gongloff at mgongloff1@bloomberg.net
Before it's here, it's on the Bloomberg Terminal.
LEARN MORE