Balancing Act
Standard Chartered's Sub-Standard Recovery
The chances of a resumption in dividends is receding.
By and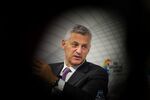 STANDARD CHARTERED PLC
+19.10
At Closing, April 20th
HSBC HOLDINGS PLC
+10.50
At Closing, April 20th
Standard Chartered Plc Chief Executive Officer Bill Winters has once again disappointed dividend-hungry investors. With costs rising and revenue barely gaining, getting them back on board won't be easy.
Wednesday's third-quarter earnings were a far cry from last year's losses -- yet they still disappointed: A 78 percent surge in pretax income was largely due to lower loan impairment charges and there was no restoration of the dividend, something investors took hardest.
Revenue fell in nearly all of Standard Chartered's markets, apart from Greater China and North Asia, where it rose 9 percent. Costs crept up, reflecting what the bank described as client-centric investments and controls.
But weighing on investors most was the diminishing prospect of a dividend. Standard Chartered suspended payments in 2015 and, with its capital buffers looking thinner than they were a few months ago, a resumption this year looks unlikely.
Standard Chartered said its common equity tier one ratio at the end of the third quarter was 13.6 percent, 20 basis points below the 13.8 percent the emerging markets lender recorded in the first half of the year. It doesn't give much wiggle-room relative to the bank's target ratio of 12 to 13 percent.
By contrast, bigger rival HSBC -- despite reporting higher costs in the third quarter -- has kept its dividend yield of more than 5 percent. HSBC is also spending on investments, particularly on a pivot to Asia, but crucially it is already enjoying lending growth and higher returns. In the third quarter, HSBC added $1.1 billion of loans in China's southern province of Guangdong.
Standard Chartered's recovery, as Bloomberg Intelligence analyst Jonathan Tyce notes, "appears to have stalled." The bank has a smaller retail presence in Asia than HSBC and doesn't have a clear target for growth. It has made several big hires in its market business, but that's an area suffering from low volatility and one that's not cheap to run. With revenue and earnings on a disappointing path, it looks like a long shot to expect a dividend reward at the end of 2017.
There's also the risk of more restructuring costs to come. The bank is still in the process of winding down its private-equity unit, which lost hundreds of millions of dollars on soured investments. Pulling back from the business is complex and raises thorny questions about relationships with big investor clients. The process will likely continue into 2018. 
Standard Chartered has come a long way since last year, when it was reeling from a wave of bad loans. But its most recent quarterly performance shows investors' faith this year has been misplaced. After thousands of job cuts across Asia, exiting billions of dollars in risky assets, and some success in cutting back souring loans, investors now need growth, but not higher costs. Winters's balancing act is nowhere near over.
To contact the editor responsible for this story:
Edward Evans at eevans3@bloomberg.net
Before it's here, it's on the Bloomberg Terminal.
LEARN MORE