Let's Stay Together
Allergan Shouldn't Break Up
The stock's in the doldrums, but a split would take too long to be worthwhile.
By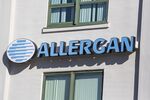 ALLERGAN PLC
-0.09
At Closing, January 23th
PFIZER INC
-0.11
At Closing, January 23th
Just like its would-be mega-merger partner Pfizer Inc. once was, Allergan PLC is being nudged to consider a breakup.
Allergan's shares are down more than 30 percent since the Pfizer deal fell apart last year, and the idea of splitting the business up was a focus of the company's third-quarter earnings call Wednesday. RBC analyst Randall Stanicky wrote in a research note earlier this week that a breakup is "inevitable." But a similar Pfizer discussion went nowhere, and Allergan's may have the same result.
Clearly all is not well with Allergan, giving breakup talk momentum. Analyst earnings estimates have been plunging as competition for older products grows. Allergan gave a 2018 earnings framework on its call that suggested estimates may still be too high if generic rivals to its lucrative eye drug Restasis hit the market early next year.
Investors have keyed in on endangered medicines that will make 2018 a pretty rough revenue year, rather than on products like Botox that are doing well. 
As a result, Allergan's valuation has been depressed. It trades at a discount to several large and mid-sized pharma competitors -- hence the breakup talk.
RBC's Stanicky suggests splitting better-performing businesses into a "growth-co" and everything else into a "mature-co." His analysis suggests the "growth-co" could be valued about as highly as Allergan's shares currently are, with significant upside, while the mature business would generate a solid return. 
But it's a bit more complicated than that. For one thing, Allergan management seems cool to the idea. CEO Brent Saunders said on Wednesday's call the company didn't have a "religious conviction" against a breakup, but that it wasn't currently on the table. 
And Saunders zeroed in on one compelling reason not to split, noting it would likely take "several years of work." By that time, a significant portion of Allergan's revenue losses from expiring drugs will have already occurred. Saunders said the company expects to return to earnings growth in 2019 regardless of what happens with Restasis and other older drugs. So by the time a split could realistically be completed, a substantial chunk of the potential valuation benefit of a breakup would be gone.  
Rather than pursuing a strategy with likely diminishing returns, Allergan could use the still-significant cash flow its medicines generate to invest, acquire, or pay down debt. Or it could raise cash via quicker and more-targeted divestitures. 
No strategy can be ruled out for a company as aggressive as Allergan. But a depressed valuation and a down 2018 aren't enough to justify major surgery.
To contact the editor responsible for this story:
Mark Gongloff at mgongloff1@bloomberg.net
Before it's here, it's on the Bloomberg Terminal.
LEARN MORE